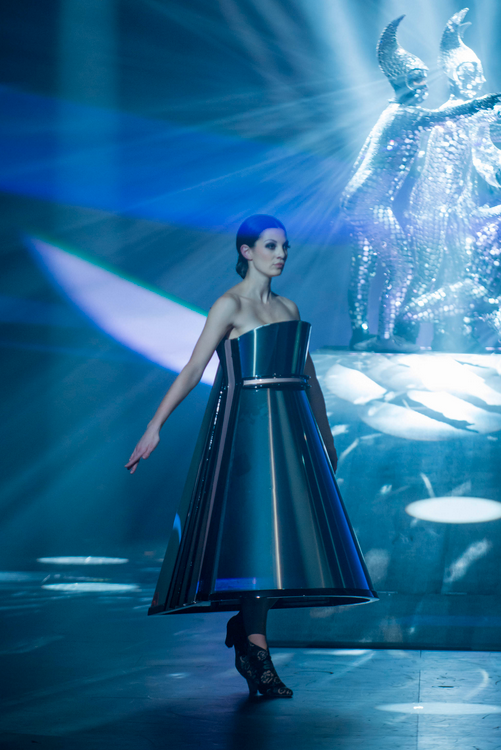 WOW – the World of Wearable Art 2015
As a member of the fashion press one of my many highlights is attending WOW – the World of WearableArt – in my hometown of Wellington. I never tire of sitting next to first-timers and hearing them literally gasp, 'Wow' as this magnificent show unfolds.
This year, WOW was better than ever and I have to admit was my favourite from the previous few years. I loved the inclusion of the gentleman who flew across my head with wings and wires at the beginning of the night and how he was incorporated into each segment of the show giving it an endearing continuity.
I loved each part of this theatrical event and was wowed myself by the lasers. The Bride and Groom section always brings smiles, as do all the cute kids in their section. I feel a little burst of pride when I view the Aotearoa section.  There were trapeze girls and volcanos erupting. I mean seriously! What a show.
But this event is all about its name, the world of wearable art. The models do a stunning job showcasing the most amazing creations you are ever likely to see on a catwalk. They float and turn showing all angles that can glisten with metal, floaty fabrics, glow with bottle tops or flutter with feathers. If your mind hasn't been seriously blown already by the starting creations, once you hit the Avant Garde section, there is no doubt it will be.
This year there were a total of 107 entries by 123 designers vying for 40 awards. The Brancott Estate Supreme WOW Award winner was a magnificent piece called Diva's Dreamscape by Peter Wakeman from Nelson.  This art-deco inspired piece was made from stainless steel, wood and fibreglass and also took out the Creative Excellent Architecture category.
Images: Diva's Dreamscape, Peter Wakeman, New Zealand.
You may not love fashion, but most people appreciate art in all its many forms.  With WOW, it's a show that engages all the senses. Not only can you just watch it and enjoy the music, choreography and themes, you can ponder the creator's interpretation and inspiration.  Many outfits will have you shaking your head in sheer amazement at its construction, how it's worn on a human form and what materials have been welded, sewn, stuck or twisted to create it.
FYI, I love a good ticker tape ending, which this year, the show had. Now I can't tell you what to put on your bucket list, but when you combine the stunning, eclectic and vibrant coolest little capital in the world and a show of this standard, I can only strongly suggest that you do.
Trudi Bennett owns and runs style consultancy www.wardrobeflair.com. She has offices in Auckland and Wellington. She helps men & women find clothing and styles to suit their body, budget and lifestyle.
10th October 2015
Recommended