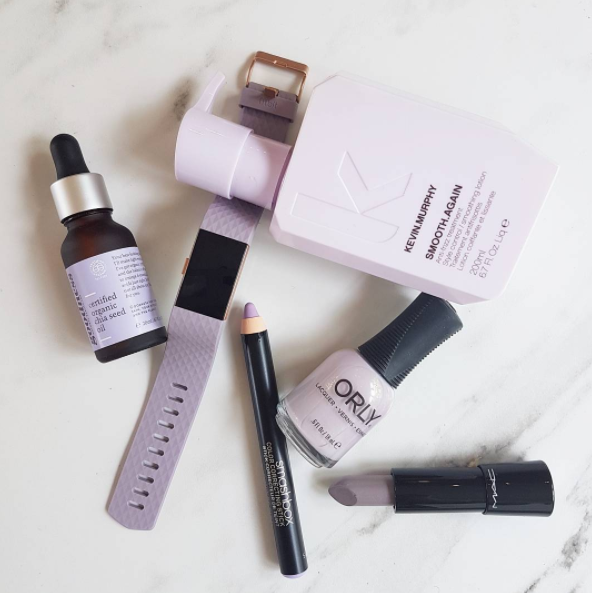 How pretty is the new lavender rose gold Fitbit Charge 2
How pretty is the new lavender rose gold Fitbit Charge 2 heartbeat and fitness wristband!? I am loving the gorgeous new shade and the rose gold stainless steel combo. And let's face it – if you are going to feel motivated to get up and run in this weather, it needs to be REALLY motivating, and having something this gorgeous, and functional to boot, is just the ticket. 
The Charge 2 is one of my favourite Fitbit models, due to its perfect size. It's not too small so it still retains the functions I like (more of this below) and it's not too big so it's ideal on my quite small wrists.
So, what are my favourite functions, made even better with the Charge 2's latest incarnation? Ready for the new year, Fitbit has added the features the fans have requested most, including pausing your workouts so that you just track the time you are active; a breathing session with vibration to let you know when you need to inhale or exhale; a clock face with seconds displayed and a battery life indicator.
I also like the mobile phone message notifications that flash up on screen when you get calls and texts, and I really like the interchangeable wristbands to change the look for your outfit and mood. I think for now though the lavender and rose gold is my personal pick.
Pictured above; more lavender love with Goodness organic chia seed oil, Kevin Murphy smooth.again, Smashbox Color Correcting Pencil, Orly nail lacquer in Flawless Flush, and MAC lipstick in Ionized.
See the latest range of Charge 2 RRP$269.95 at the Fitbit NZ website.
Photos by Megan Robinson. Items gifted for review.
24th January 2017
Recommended