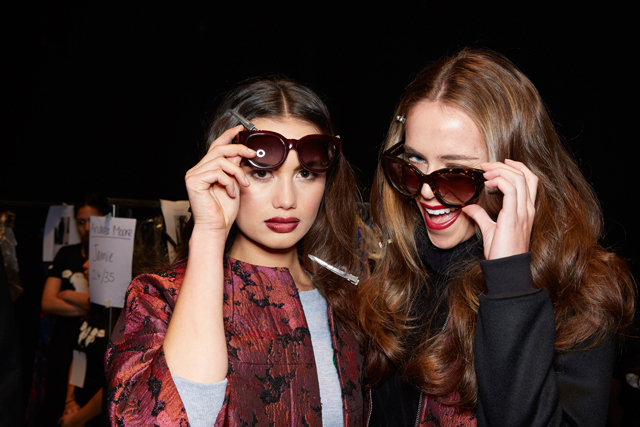 Andrea Moore WINK WINK and Curious Cat AW15 at NZFW
Andrea Moore AW15 at New Zealand Fashion Week 2014
This show was quite moving for me. I found it quite emotional having the fabulous local singer-songwriter Ginny Blackmore take to the stage and perform and the start and finish of the show. It can go either way when fashion shows bring out performers; it can be a bit 'gimmicky' sometimes, as though the clothes need a bit of a distraction, but these clothes stood up by themselves and the performance was just the icing on the cake. Ginny Blackmore is an incredible artist and it was amazing to be seated literally metres from her as she sang Over The Moon on the catwalk, wearing a jewelled LBD from the Andrea Moore collection herself. Below: Ginny Blackmore singing. Photo taken on my iPhone.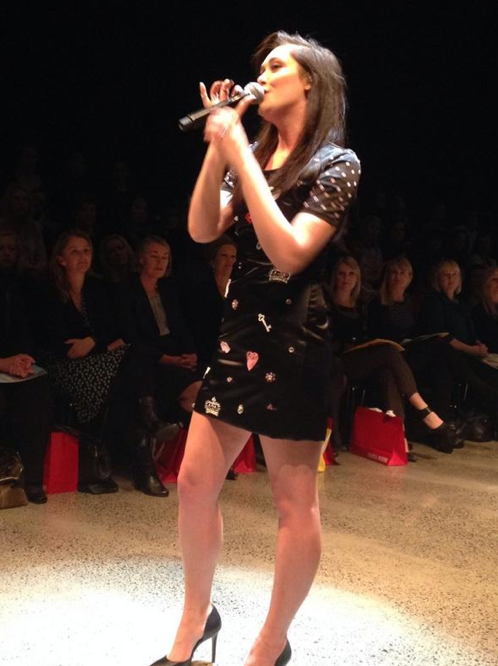 There were two clothing collections, as well as Andrea Moore jewellery and Eyewear accessorizing the looks. First up, models wore the main line, ANDREA MOORE Autumn Winter 2015 line, 'Wink Wink'. This is inspired by surrealist art with an icon of a winking eye, seen on the model's hands in the picture below.
Wink Wink had orange pops of colour, bright greens, and a cool zig zag print on flowing georgette dresses. My personal pick was a very gorgeous emerald ruffle-fronted jumpsuit.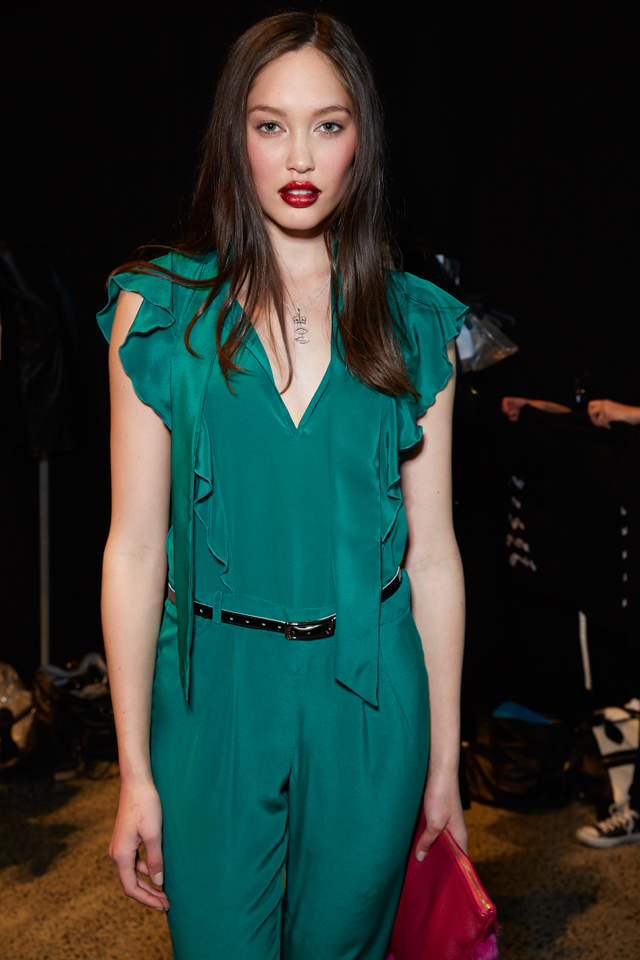 The second line was her diffusion line, I AM – a witty play on her initials, AM – on a group of younger models. This was the first time that I AM has been shown on the fashion week runway and it looked fresh and cool in its geometric prints on trousers, and tops with a cute origami cat design – the titular print for this range, 'Curious Cat'. I AM is designed by Jacenta Kwan for Andrea Moore.
By Megan Robinson
27th August 2014
Photography by James Yang www.jamesyangphotography.com
Thanks to Smashbox cosmetics, here are the two face charts for the models' makeup looks for the show.
Recommended