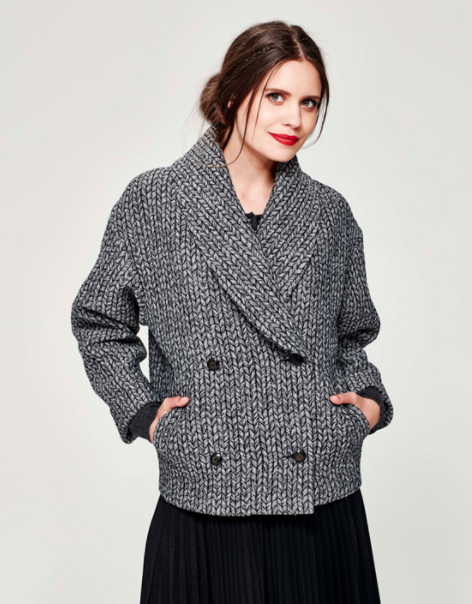 Career style: essential fashion tips
As a professional woman, your qualifications and experience are paramount, but there's no reason you have to leave your personal style at home. In this post we're going to look at a few essential fashion and etiquette tips for the workplace so you can work it while you're working.
Pic below from Karen Walker.
Is there an industry dress code?
For women employed in law and certain professions with either implied or actual dress codes to follow, there definitely are more challenges in holding your personal style.
The secret is in the details: good quality pieces, interesting detailing that makes it a bit different and stand out from the rest, and clever use of accessories.
Some workplaces require a degree of modesty, and the amount of skin shown needs to be considered, as well as the type of fabric in garments – is it sheer? Do you need to invest in good slips and a non lace camisole, and so on. I find department stores lingerie floors have excellent ranges for quality basics in these.
Pic below from Karen Walker
Know the occasion
There are many careers with an MBA that you can choose from, and most will require that you know how to dress for different occasions. When attending special events with clients and colleagues, I feel you can express your individuality more. After all, who goes to a party in their business suit? Switch it up for brighter colours, add a statement necklace or earrings, and a higher shoe and a more bold lipstick shade.
Pics below by Trelise Cooper.
At the same time, of course be appropriate Just as you need to keep your social media professional at the weekends, keep your work party attire classy. A great tip is finding a celebrity mentor who inspires you, and Google their red carpet and party looks for inspiration. Celebs such as Victoria Beckham, Nicole Kidman and Helen Mirren look sophisticated and elegant.
Go for the best quality
Pics below from Victoria Beckham.
Invest in high quality, superbly tailored clothing if you want to really stand out. Tailored clothing will give you that extra edge and is so flattering. Though it might put a dent in your wallet, it is better to invest in a few quality outfits than have several cheap ones of poor quality. Tailored clothing is usually much more comfortable than regular off the rack clothing.
Must-have items
Invest in a few must-haves, then build your wardrobe around them. These vary depending on your career, but often include:
tailored black trousers,
a black suit blazer,
a knee-length skirt,
a sleeveless dress which can be worn under the blazer,
or layered tunic-style over a shirt, a long-sleeved knee-length dress, a knit cardigan in a colour you love (I always get grey!) and in cashmere or a cashmere blend if you can, a white shirt, a round neck long-sleeve top, and three or four tops in colours that will go with the capsule work basics. Pics below from Victoria Beckham.
Accessorize
At all times, learn to accessorize. The kind of perfume and jewelry you wear enhance your appearance a hundred fold. Always wear accessories that match your attire; for instance, a short necklace with a scoop necked dress; a long chain with a v-neck blouse and jacket, an interesting pin or vintage brooch on a collar lapel to add interest to a dark suit. Colour and patterns should not scream too loud, but err on the side of conservatism, and this goes for makeup too. I love MAC Velvet Teddy lipstick for daytime wear, and warm-rose shades of lipstick and blush and a soft, neutral eye suit most workplaces.
Understand other cultures' dress codes
As a professional you might be working with other people from different cultures. Always make sure to learn a little about their dress code, especially considerations regarding modesty in dress and being sensitive to those of other cultures in a respectful way. Most MBA career opportunities will demand that you interact with clients and partners from all over the globe, and understanding other people's culture should be part of international business relations. And this is especially true if you want to make a powerful first impression.
Having professional attire is an essential part in any business nowadays. While there has been a recent trend, mainly among new startup tech companies, to go for a more relaxed dress code, it is still essential to know what the appropriate dress code is for your business and adjust your fashion choices accordingly.
Article made possible by site supporters.
8th February 2017
Recommended