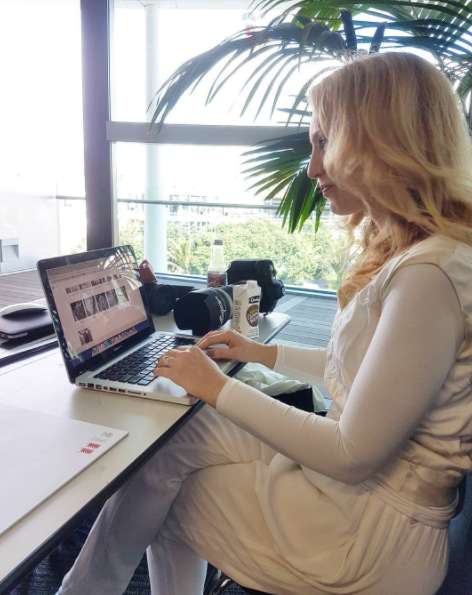 Day 2 at NZFW 2017 My Highlights in Photos
Day 2 at NZFW 2017 My Highlights in Photos. Intro image above in the media centre at fashion week actually working and not at shows for once. Photo by Daisy Elizabeth Conroy-Botica. 
See Day 1 highlights on Threadnz here, Day 2 highlights here, Day 3 highlights here and Day 4 highlights here.
Tuesday 29th August 2017
DAY 2
Designer Rachel Mills, showcased a collection that fused masculine and feminine styling with an elegant flair. The highly wearable looks highlighted the 'functional with a touch of drama' style that the designer has become known for, showcased installation style on stationary models. See more on threadnz here.
Food! In the fashion week media centre. This won't last long 😉
Goody bag at Company of Strangers, brought by NZ Post, makeup by MAC and hair by Kevin Murphy.
Company of Strangers has acquired a cult following for its proudly 100% New Zealand collections and jewellery. Tuesday's show championed functional luxury, combining avant garde tailoring with delicate lace and chiffon pieces in an elegant palette of black and burgundy.
Indulgent, fresh and delightfully feminine, Katherine Victoria is an emerging Wellington-based label with wearability as its primary goal. Her AW2018 collection experimented with innovative colours and prints featuring a pastel palette, geometric fur and bold textures.
The New Generation show saw four emerging designers present innovative new collections. 17-year-old Georgia Hensley-Smith of GEOJ, made her NZFW debut with a collection inspired by movement and texture.
Luke Dawson delivered a collection of unisex streetwear, influenced by his love of comics and desire to utilise clothes the way you would a blank canvas.
The 'Not For You' collection by Jerome Taylor fused cutting edge streetwear with sharp tailoring overlaid with a political commentary on the state of homelessness in New Zealand.
Pania Greenaway offered up a highly wearable collection with sheer black organza pieces highlighted by forest green velvet. Read our review of New Generation, by Jess Molina, here. 
Returning to the NZFW for the fifth consecutive year, Mitchell Vincent's designs are known for their urban simplicity with a hint of rebellion. His AW2018 collection featured contemporary and flawless casual wear ranging from hoodies to thick woollen jackets and graphic prints – all in an understated palette. Read Jess Molina's review of Mitchell Vincent on Threadnz here. 
Andrea Moore launched her new fit and swim collection with eight Royal New Zealand Ballet dancers bringing an elegant energy to the runway. The show also featured the Andrea Moore Autumn/Winter 18 collection "The Pursuit" that includes an eclectic mix of delicate Japanese lace, textures and shapes. The crane is a key icon of the collection – a symbol of strength, peace, hope and determination. Models were adorned with beautiful beaded caps and hair charms by Kela Charms.
Hailwood impressed with a sophisticated 70's vibe and star studded front row. Faux fur coats, metallic dresses and floor skimming gowns were key features of the glamorous collection that recalled the heady days of Studio 54.
The face for Hailwood by MAC cosmetics, my photo taken backstage with MAC interviewing the makeup artists. Read our review of Hailwood by Julie Roulston with photos by Annupam here.
Lela Jacobs showcased a collection of unique and explorative pieces.  The ethereal runway show juxtaposed texture in a range of luxurious fabrics – silks, cottons, possum and merino in a monochromatic colour palette highlighted by a vibrant royal blue. Read about Lela Jacobs reviewed by Jess Molina here.
Very cool thumbs up candle by Shooting Sparrow in the Federation + Redken goodybag! Plus snacks are always very welcome.
When streetwear meets designer clothing, Federation is the result. Logo hoodies, satin bombers, a reinterpreted camo print and layered neutrals were highlights of this standout collection.
Salasai celebrate 10 years with a very cool show held off site at Hilton Auckland. Pic by Michiko Hylands as my phone battery had died. Thanks Michiko. Renowned for bold prints, soft tailoring and a languid aesthetic, Salasai presented a collection that balanced comfort with luxe, and the practical with desirable. The innovative and yet timeless 'Human Kind' collection that closed the second day of NZFW contrasted rib knits with satins in a neutral colour palette.
Enjoy this post? See Day 1 highlights on Threadnz here, Day 2 highlights here, Day 3 highlights here and Day 4 highlights here.
Megan Robinson
29th August 2017
Photos from my Instagram at www.instagram.com/threadnz/ and runway photography by www.Annupam.com
Recommended