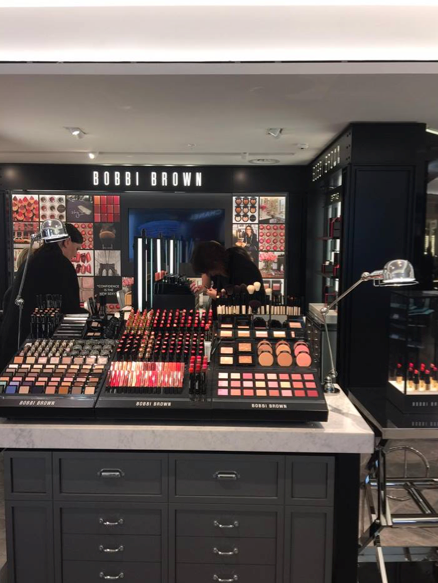 Fashion Report: Opening day of David Jones Wellington
Teesh Saunders reports for Thread on the opening of David Jones in Wellington and her experience of the exciting new store on day one…
Bright-eyed and bushy-tailed after a few wardrobe changes I finally pulled an outfit together with my pink pants from Glassons and a chiffon navy blue top from Max paired with a gorgeous fur coat to help me survive the cold windy Wellington weather. I was off to my regular café Arabica, as my friend Irene will say, I am best served in the morning with an almond milk mocha and scrambled eggs on toast.
All set and fuelled for the day it was down to David Jones where I was met and greeted by Rebecca of Showroom 22, and had to sign in and receive my media accreditation on behalf of ThreadNZ to be the Fashion Writer for the public opening of the first New Zealand David Jones store. I got to mooch, mingle and meet with many other reporters from different companies and get to know them.
I then approached a group of four young girls from Queen Margaret's College who were beaming with excitement. They informed me that it had been an early rise and shine for them starting at 5:30 which lead to them being the among the first to be waiting in line from 6:30 am. Left to Right: Jessie Rongen, Riley Newell, Siobhan Murrary, Kate Lyford Queen Margaret's College Friends.
Speeches then began and so did some tears from the sky. While we huddled underneath David Jones umbrellas we were greeted and welcomed by the stunning Ambassador of David Jones Jessica Gomes and the very suave CEO John Dixon.
The ribbon was cut and it was official: David Jones' first store here in New Zealand, in Wellington, was declared OPEN.
I took a deep breath in before I launched myself forward and exhaled out as I stepped into the store. I immediately turned into the heart-shaped eye emoji. The store was absolutely immaculate; everything I imagined and beyond.
Everyone had a smile from ear to ear and every department was filled with those browsing, purchasing and trying products. It was straight up to Level #1 and into the shoe department where I was greeted by the Valentino shoes staring at me going pick me pick me, take me off this shelf and add me to your wardrobe.
What a shame John Dixon distracted my attention away from Valentino and interviews began.
After the interviews I was approached by the lovely shoes sales assistant Miriama Ngatai who had changed her profession from working in hospo to now retail. She said yes it has taken her 20 years to make the change over from hospo, but when the advertisement for David Jones arose she knew that this was the time to make that change, and she is loving every moment of it.
It was then exploring time and, my goodness, I could say whatever designer brand came to your mind- David Jones had it. From some of our New Zealand designers including twenty-seven names, Karen Walker, and Trelise Cooper, all the way through to many, many, international designers including Jimmy Choo and Tommy Hilfiger.
I stumbled across the Kitchen and Homeware department and pretended that I was the world's greatest domestic housewife who could cook and clean and instantly planned my dream home in my head. When the time comes I will be sure to tell Mum and Dad that I need a few key items from this section.
It was amazing to see so many people from various ages and genders but a stand-out for me was seeing many generations within families making it a family trip to come to the opening. I got chatting a very cute mini shopper, Chloe Po, who had come with her mother Amanda and Nanny Janine Walsh to make a few purchases and have a look at what David Jones had to offer. From the sparkle in her eye and gorgeous big smile I could tell she was very overwhelmed but excited all at once.
Next, it was down to the beauty section and I am not going to lie but I am useless with makeup. All I had on was my Garnier BB Cream with some mascara and blusher. Basic I know. But I was greeted in the makeup department by so many talented artists teaching, educating, applying, and inspiring. I was drawn towards the Bobbi Brown counter by the fabulous and vivacious Olivia Wild who I was then lucky enough to have my makeup done by. She made my experience enjoyable and one to remember.
Below: Rosie & Ash from MAC
After having spending most of my day meeting and interviewing new people, trying products and evaluating what David Jones had to offer it was time to give my poor feet a rest from my heels and sign out from reporting for ThreadNZ.
It isn't every day that you get a message from Megan Robinson of ThreadNZ asking if you would like to attend the Grand Opening of a store. There was no hesitation at all and there was a reply straight away saying YES. Megan is someone I am inspired by and follow on all social media platforms and have for some time now. Receiving this message on Tuesday evening had me thinking dreams really do come true and this is the greatest opportunity that I could never have dreamed of turning down.
Words and photos by Teesh Saunders
28th July 2016
Recommended