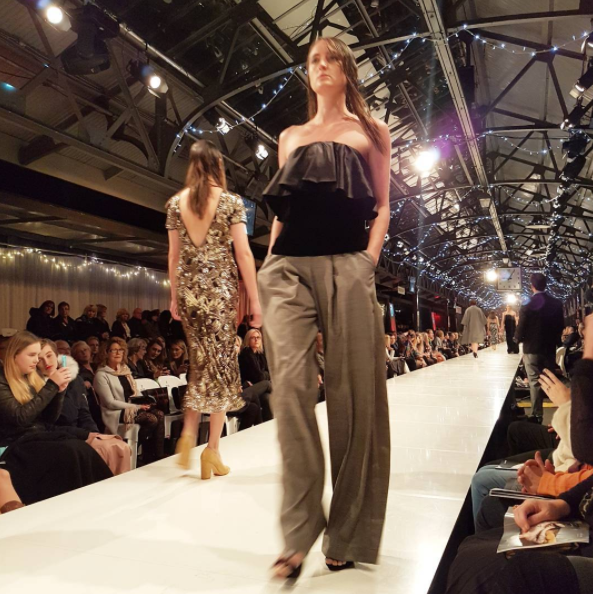 Friday night at the Railway Station: iD Dunedin Fashion Show 2017
I had an amazing time on Friday night – and no I wasn't at Adele – but I had the equally awesome experience of attending iD Dunedin Fashion Show 2017, and seeing some of the best of New Zealand fashion on the world's longest catwalk, running the length of Dunedin Railway Station. It was packed-out both nights with fashion fans which was great to see. It's clear that the community really gets behind it.
For me personally, flying down each year to attend, I really like that it is an adventure to get to it and not a car drive into town; much as I love Auckland, I really want iD to stay right where it is – Dunedin – and I want everybody to support it by attending every year and for more and more businesses to sponsor it. In fact, I did a flatlay of all the lovely sponsors that gave us products to try, and that support iD Fashion Week. Shout out to Rockburn Wines, Otago Polytechnic, Dunedin Council, Swanndri, Laffare Coffee, Larnach Castle, Redken, Revlon, Holden, and Carlson.
See my highlights of Day 1 at iD Dunedin Fashion Week here on ThreadNZ.
Here my highlights of Day 2 at iD …
VIVA PHOTO BOOTH
Such a fun idea; the Viva photo booth puts you on the cover of NZ Herald Viva, inside Golden Centre Mall. My makeup is by Rochelle of Revlon, and hair by Keeley at Blaze Hair. 
Revlon makeup from iD. I was lucky to get a makeover with Revlon artist Rochelle yesterday and Sarah Tunnicliffe today, and I'm wearing this nude lipgloss right now and to the show tonight. Revlon actually do a fantastic job of the makeup at the show and the models looked beautiful. 
COMPANY OF STRANGERS AT EMERSONS
Models in @companyofstrangers at @emersonsbrewery degustation lunch.
LARNOCH CASTLE 
On top of the world.
A mosaic cat tiled floor at Larnoch Castle as their family crest had four Scottish cats on it; now I REALLY love this place.
iD FASHION SHOW AT THE RAILWAY STATION
Top New Zealand fashion labels including nom.D, Hailwood, Tanya Carlson, and more, showed their AW17 collections alongside guest label Stolen Girlfriends Club and the collection of international guest designer, the talented Paulo Melim Andersson.
The iD Dunedin Fashion Show – held on both Friday and Saturday nights – also featured emerging talent from Otago Polytechnic, with top highlights from winning entries from the iD International Emerging Designer Awards held on Thursday 23rd March 2017.
Nom.D celebrating 30 years of this iconic New Zealand fashion label by Margi Robertson, herself a judge of iD.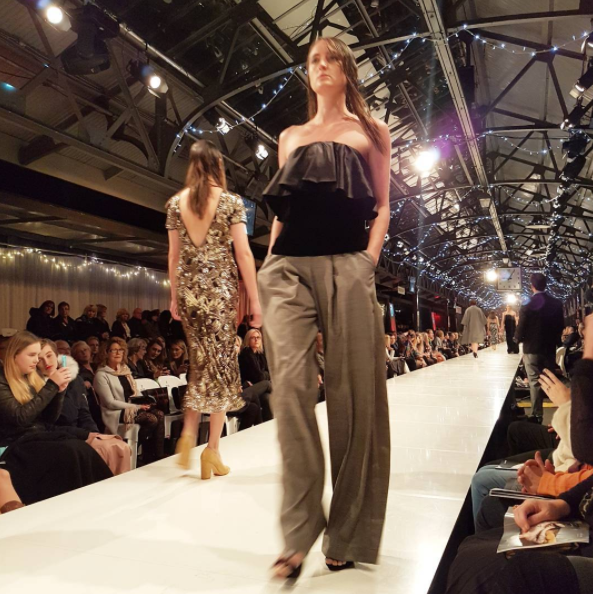 Hailwood glamour on the world's longest runway.
On the catwalk…jokes, it's actually intermission. I'm wearing @maaikeclothing photo by Kaitlin of Apparel mag. Thankyou @revlonanz for my makeover by the fabulous Sarah Tunnicliffe.
A design by the winner of iD International Emerging Designer Awards 2017, Nehma Vitols. Read about the iD 2017 winners here on ThreadNZ.  
CAMP ESTATE AT LARNOCH CASTLE 
Will anyone judge me if I eat this antipasto platter in the bath? The Camp Estate hotel just dropped me off this yum platter. PS how nice is a bathtub with a mountain view?!
The view on a misty morning of my hotel, Camp Estate at Larnoch Castle, from behind overlooking Dunedin harbour and mountain ranges.
Bye bye Dunedin! My classic jaguar is here to chauffeur me to the airport, can I please keep him?!
Book to attend iD Dunedin Fashion Week here. Book to stay at Camp Estate at Larnach Castle hotel here. I was a guest of iD Dunedin and was not paid for posts. All opinions are my own.
Words and photos, Megan Robinson
25th March 2017
Recommended