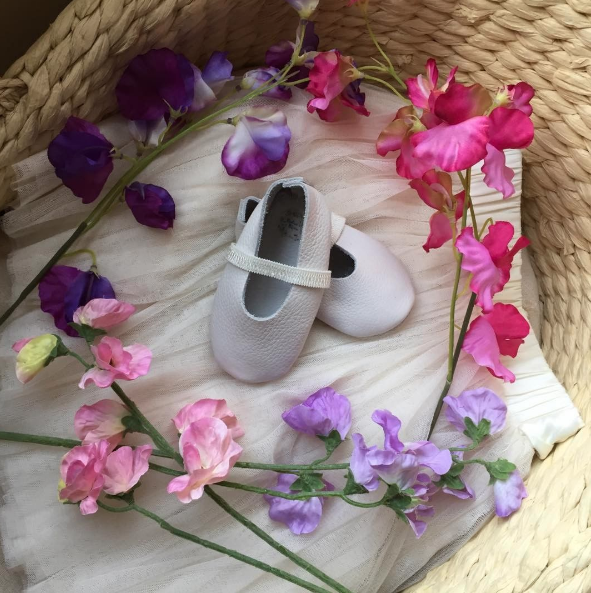 Handmade in New Zealand: Noeline Mavis
The designer Sharon Evans tells us about her label, Noeline Mavis, which creates handmade leather baby ballet shoes, feather cushions, and wool capes for women and children…
Inspired by my late Mother's ability to create garments of such exquisite quality one should be able to wear them inside out; this was Noeline Mavis. A very wise saying she lived by "If a job's worth doing – it's worth doing properly"
I am so proud to bring this legacy brand to life and will endeavour to always live up to Noeline Mavis's exceptional standard and only bring to market products made to the highest standards and ALWAYS New Zealand made.
At present in the range are 100% leather baby ballet shoes (Violet's Baby Pointe) in pearl or pink ($40), exquisite feather filled cushions ($75) made from the very best imported English fabric…
…and my absolute favourite: 100% wool cape coats (Mavis's Cape) in varying fabric weights to cater for autumn, winter, spring and summer in sizes XS, S, M & L ($300).
I have also done a small run of Mavis's Capes for little girls age approx 6-8 yrs in cotton/wool blend. My future plan for Noeline Mavis is likely to focus on adding key pieces for women, always NZ made and with exquisite fabrics.
Noeline Mavis is at Ponsonby Central (tall shelves) this week, I set up today and I'm excited for this opportunity as a first stage of becoming known.
See more at www.noelinemavis.co.nz
Sharon Evans Director/Designer Noeline Mavis
10th October 2016
Recommended