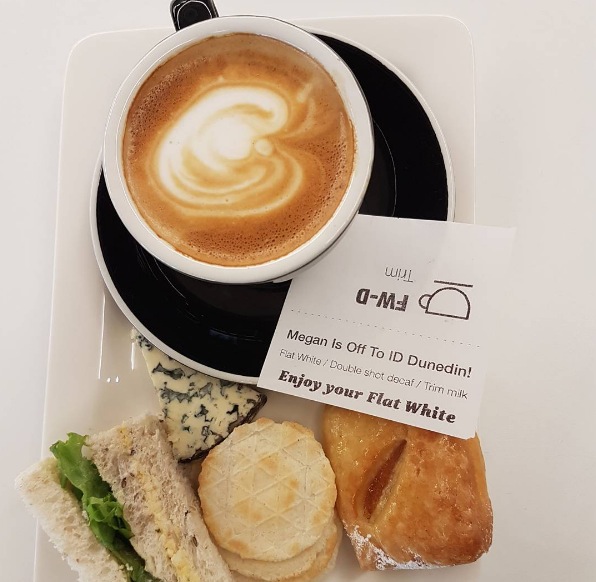 I'm loving: iD Dunedin 2017 – see all my highlights here!
I've long known that there's something special about iD Dunedin. For the years that I've travelled here, the love shown by the South Island town for its annual fashion week culminating in an international awards show, is hugely apparent. I've said the town 'punches above its weight'  putting on these world-class shows and I really believe that to be true. In fact I would warmly encourage anyone considering a visit, to pull the plug and just book it. In addition to the runway shows- which are stunning visually and showcase international talents at the top of their field – there are a number of events on around town, many of them free of charge, at the museums and art galleries.
iD Dunedin 2017 – see all my highlights from Day 1 of iD, here in photos…
CAMP ESTATE
The super amazing foyer at my Dunedin hotel. I'm possibly the only person to stand on the staircase in sneakers (with Nom.d socks though!)
The incredible hotel I'm staying in, for @idfashionwk. Thanks for having me, Camp Estate Larnach Castle.
SHOPPING IN DUNEDIN
I bought a new playsuit I'm not sure it's going to be warm enough for Dunedin ha ha. There are a myriad of cool stores and a huge variety of labels for everyone's tastes and budgets in Dunedin town centre. I got this at a fab secondhand store called Paper Bag Princess and there are also designer stores PLUME and Nom.d, Zambesi, and all the New Zealand brands such as RUBY, and the chain stores in the malls and great shoe stores including Mi Piaci and I Love Paris. Why not hit the shops while you're here for a new outfit?
This has never happened to me before but also while I was shopping in Overland Footwear this gorgeous girl just stopped me and said "Are you Megan, I follow you on Instagram!" So a shout out to Anna of Dunedin. I had my makeup thanks to Rochelle at Revlon at H&J Smith at Meridian Plaza.
HAILWOOD AND TANYA CARLSON WITH BEEYU SKINCARE
With the gorgeous Tanya Carlson and Adrian Hailwood at beeyu skincare's fashion showcase held at Vault 21 in the Octagon in central Dunedin.
Honey cocktails designed especially to complement the manuka honey and bee venom skincare, Beeyu, at the showcase for Adrian Hailwood and Tanya Carlson.
EMERGING DESIGNER AWARDS
Pictured above: my photo from the audience of breathtaking designs by the very creative New Zealand designer Megan Stewart at iD International Emerging Designer Awards 2017.  
Read about the awards winners and see their entries at iD International Emerging Designer Awards on ThreadNZ by Amie Richardson.
All the creative design is on the catwalk tonight in Dunedin railway station for ID Dunedin Fashion Week emerging designer awards. Above: Designs by Tess Norquay of Massey University Wellington. Tess won the fabric store prize.
Book to attend iD Dunedin Fashion Week here. Book to stay at Camp Estate at Larnach Castle hotel here.
I was a guest of iD Dunedin and was not paid for posts. All opinions are my own.
Words and photos, Megan Robinson
24th March 2017
Recommended