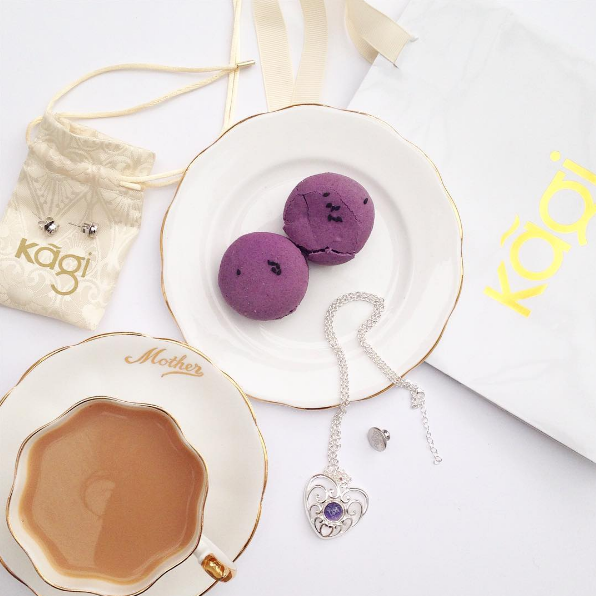 I'm loving: the latest Autumn Winter 2016 collection from KAGI Jewellery
I'm loving: the latest Autumn Winter 2016 collection from New Zealand jewellery brand, KAGI Jewellery, designed by the gorgeous Kat Gee.
Kat Gee says of the new collection; "This Autumn Winter I have added more timeless classics in our collection, featuring stunning peacock pearls, double-sided pendants, and alluring gemstones."
"There is a design for every woman and every occasion. I believe every woman has what it takes to be fabulous and I design Kagi to let your own unique style shine."
I was lucky enough to attend the launch at Wintergardens Pavilion to hear the beautiful inside-and-out Kat speak, have a glass of bubbles, view the range, and even see her ADORABLE new baby boy! That definitely stole the show! Here are some of my pics from the launch…
Below: the sterling silver and gemstones pieces were creatively arranged on rounds of timber for an Autumnal look for the new season.
Below: her name in lights – KAGI jewellery backlit on display at the media launch picks up the light and glows.
Below: Gem Pops are the customisable gemstone settings that you can buy stones for (priced around $49 each) and put in and out of your rings and necklace settings to match your mood or your outfit.
Below: Kat Gee and I. Kat wears Kagi Blue Danube Pendant $179 on Blue Danube necklace $249, and Blue Danube Drop Earrings $99.
For stockists and to buy online, see www.kagi.net
Megan Robinson
24th May 2016
Recommended