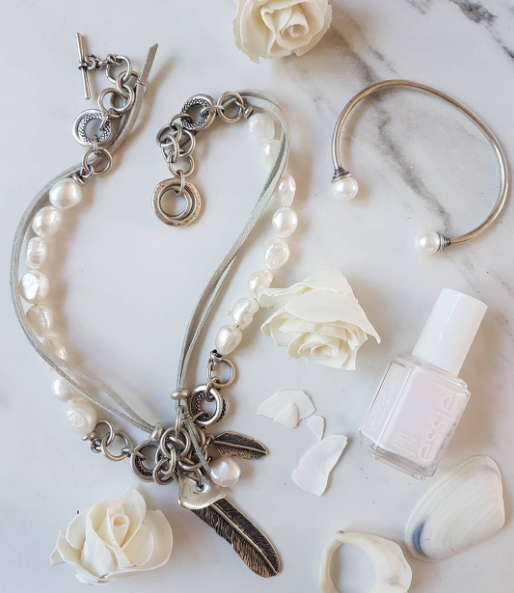 I'm loving: the silver and precious stones jewellery by Miglio
I'm loving: the silver and precious stones jewellery by Miglio, a jewellery brand from artisans in South Africa. 
Today I went to the Miglio Jewellery showroom and got this beautiful freshwater pearl and suede necklace with burnished silver plated links. The designer jewellery brand is handcrafted by artisans in South Africa from responsibly sourced materials, and is now available in New Zealand at selected jewellers and from Miglio.com. Here in New Zealand, you can view the NZ Miglio website here.
The brand had its beginnings back in the Eighties when Jenny and Mike Miller of Cape Town, South Africa, started making jewellery for high-end retail stores. Then, in the 1990s they saw the need for an ethically-made, fashionable jewellery brand, and Miglio was born. All manufacture today remains in their Somerset West factory in Cape Town, employing skilled local craftspeople. They use eco-friendly, recycled brass and pewter dipped in solid silver or rose gold. The burnished silver effect is achieved by a method of burnishing and hand-buffing which gives it an attractive vintage look rather than a mass-produced shiny silver appearance. All Miglio jewellery is guaranteed to be lead and nickel free, and the crystals use only genuine Swarovski® branded crystals.
I love this gorgeous open bangle with pearls; a simple and chic modern classic.
Shades of blue with crystals and burnished silver.
Black pearl drop earrings, a leather necklace to customize with your choices of adapters, hearts, and more. You can by the leather necklace in a variety of colours and create your own look by clipping on different pendants.


Below: A bracelet and necklace in rose quartz and burnished silver jewellery.
Follow them on Instagram at @migliodesignerjewellery
Megan Robinson
9th January 2017
Recommended