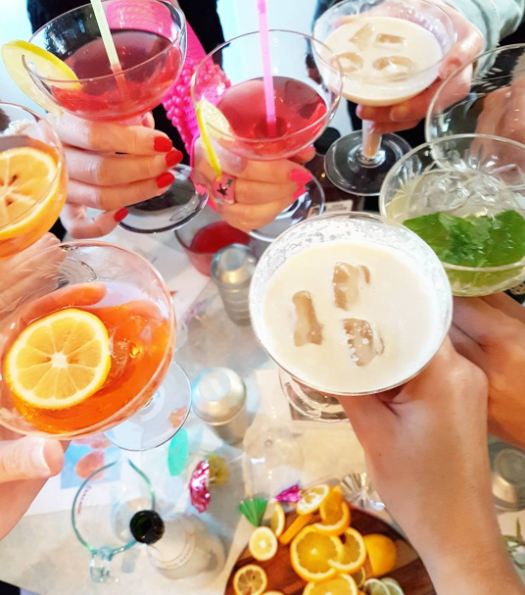 My 80s theme birthday party
I thought I'd share with you some pics from my own 80s theme birthday party with girlfriends I held in my home, complete with Eighties dress up costumes, vinyl record bowls, 80s record sleeves, Pacman cupcakes, 80s cocktail making competitions, and an Eighties highlights trivia quiz.
Remember the 80s?
What a time to be alive
I definitely do. But even if you are too young to remember the golden days of AHa, Wham, Madonna, Flashdance, Footloose, Dirty Dancing, and Tom Cruise in Cocktail and Top Gun, you can relive it with an 80s party.
Party Games
I quite like having an activity at a house party. It's more comfortable making fools of yourselves in a home than in a bar or restaurant and you can relax and have a laugh. Games are great for breaking the ice if people don't know each other well  they will be bonded by the end, ha ha. At my 80s party we had a cocktail-making contest in teams and an individual pop quiz. I was actually amazed at how competitive some of my friends are.
80s Costumes
To get into the spirit of a theme party, fancy dress is an obvious start and nothing sets the scene more than having a laugh at each other in Eighties garb. There are a few options you can do, from the more glam to the questionable taste, from off the shoulder to neon and so on. We had a mix of all the types but big hair, banana hairclips, and shoulder pads were the winners on the day.
Above: Plenty of blue eyeliner and big hair.
Shoulder pads are a must.
Fishnet gloves and neon pink beads.
Decorations
I decorated the house with helium balloons and got cupcake toppers from Petal cupcakes with Pac-Man on the top in various bright shades.
I bought old record sleeves of Jazzercise and pop bands to put around the room, and bought old records from op shops to hang on thread from the lights as a record mobile.
I made record bowls by putting a vinyl record over an upside down metal bowl in a hot oven then taking it out with oven gloves when it melted over the bowl, and let it cool to set. Note: only put wrapped food items in a vinyl record bowl not chips and fruit, as old vinyl can be toxic to food, so you don't want to eat food directly off it.
What's a party without balloons? The Pretty Baker brought over foil balloons for my birthday.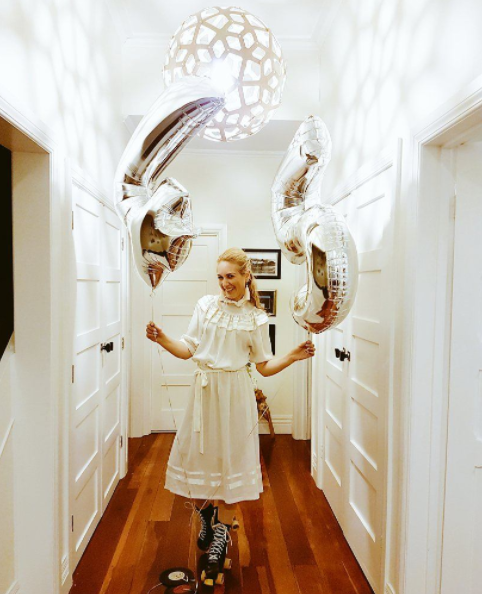 Cocktail Making Contest 
In between the 80s pop quiz (which I got questions and answers for from various online quizzes; there are hundreds) I moved guests into the kitchen for a cocktail-making competition game in 4 teams. I had already laminated a photo of each of 4 cocktails with basic directions and measurements and put this at each corner of the table with the ingredients, soda, mint and so on in the centre.
I had a timer and each team had 2 minutes to create their cocktail, then share it into glasses and enjoy it.
Cheers!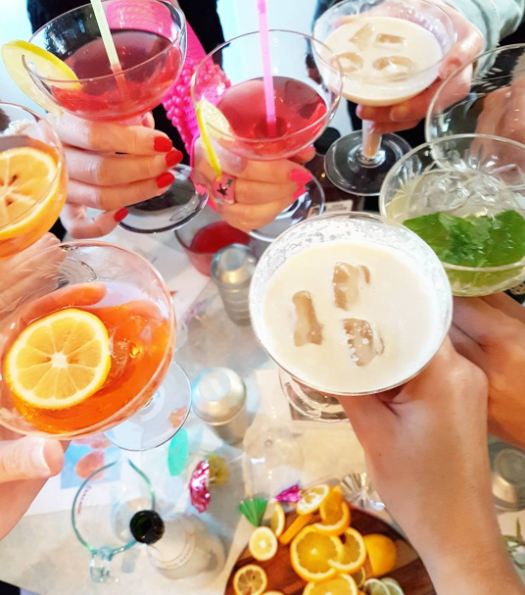 I hope you have a great time at your own 80s party. Let the good times roll.
Megan Robinson
10 March 2018
Recommended