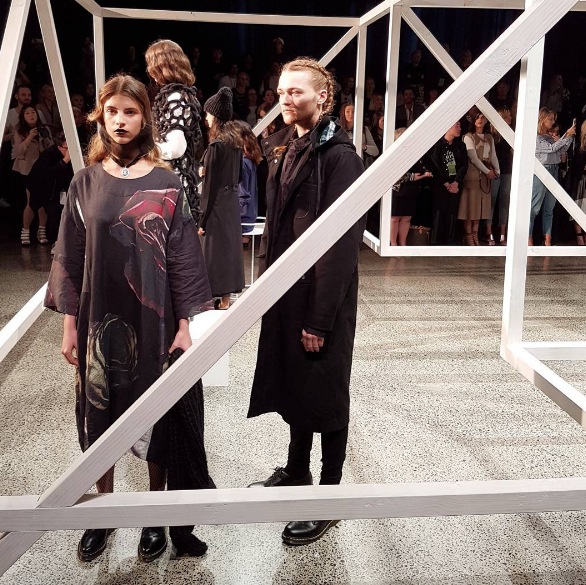 NZ Fashion Week 2016 Day 2
What's On: Tuesday 23rd August at NZ Fashion Week 2016 Day 2, Tuesday 23rd August. At fashion week today I'm wearing a houndstooth raw silk jacket I sewed, jumpsuit by moochi, shoes mi piaci. Photo by the lovely Caitlin Mitchell of Apparel. Hair do by Fudge Dry Style Bar.
Read about Day 1 at NZFW 2016 here 
Salasai – 11:30am, The Flooring Foundation Runway
Eugenie – 12:30pm, The Tent
French83 – 1:30pm, The Flooring Foundation Runway
Contemporary Salon: Wynn Hamlyn – 2:30pm, The Tent
New Generation – 3:30pm, The Flooring Foundation Runway
BlackEyePeach/XPLAIN – 5:30pm, The Flooring Foundation Runway
Jarrod Godman x Servilles – 6:00pm, The Tent
K Road Presents – 7:30pm,The Flooring Foundation Runway
The morning kicked off with me scoring an excellent all-day free carpark in the docks adjacent to Wynyard Quarter which was awesome as parking can get really expensive unless you Uber everywhere. I wore my comfortable boots, and then changed into some heels once I got inside. I headed up to level 3 into the Laurent Perrier bar where they were briefing the important international media; there are some gorgeously-dressed souls there, and a large Malaysian contingent this year, with their own show this week too. I was lucky enough to have a hair-do booked in at the Fudge dry style kiosk in the bar.
The first show of the day was Salasai and I can tell already this is one of my favourites of the week. That always sounds presumptious like when they announce Movie Of The Year in January, but this was a m a z i n g, with cage-like framework staging that the models walked down and hen stood as an installation, amongst poster-sized portraits. Stand-outs for me were the over-sized knitted tunic, and a red patterned black sweater. Silhouettes were loose and long and styled with black mesh around their necks. A dark rose print appeared on women's and men's wear.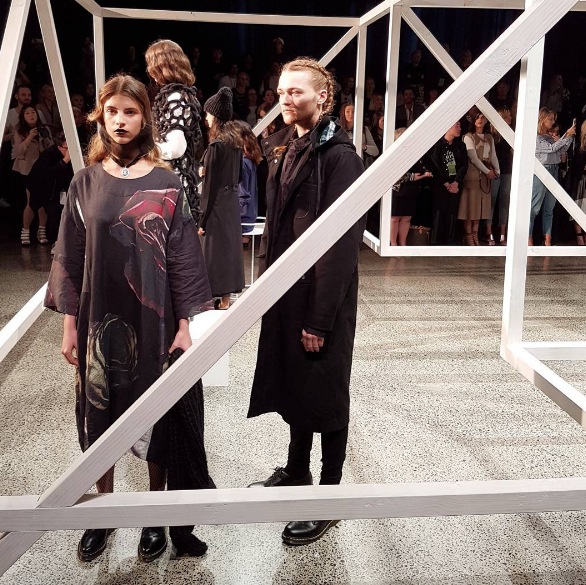 View the Salasai photos by Annupam on Thread here.
The second show was Eugenie, held in the Tent next door before you wonder how they got rid of that house frame in record time! The Eugenie designer had a fitted silhouette with cut out shoulder detailing, metallic jeans, knotted handbags, and crushed velvet dresses, some accessorised with orange hair.
Then it was back into The Runway for more interesting staging, at French83 menswear show – with models carrying stools in and placing them in a row down the catwalk. I was really impressed with this collection of menswear with a wide range of styles to suit a variety of ages, from the classic tan suits and dark pinstripes for work, as well as floral bomber jackets with matching floral printed trousers for a more youthful look.
A quick visit to the media room upstairs (the BEST ever), to upload, and now it's time for the Contemporary Salon: Wynn Hamlyn at 2.30pm downstairs.
Just back from Wynn Hamlyn and it was really cool. It was wittily styled using upholstery tie-backs and carpet bags and even carpet fashioned into tunics on models. I was sitting next to a lovely lady who showed me the showcard in the goodybag and told me she sewed it! I took her photo in the front row using her camera phone. Very cool of the designer to invite his team and put them in the front row.
Next Generation Show
Designs by AO
Social media is going crazy for Jarrad Godman x Servilles wrapped models.
Below: with Ben Boyne and Madeleine Brighouse.
Below: Lulu Wilcox, Megan Robinson, Michiko Hylands.
Below: Models walk around guests seated down the catwalk, at Lela Jacobs at the K'Rd show.
Megan Robinson
23rd August 2016
Recommended