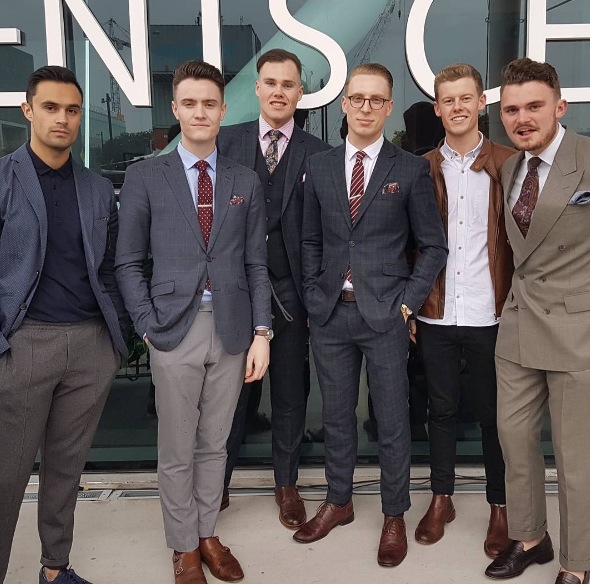 NZ Fashion Week 2016 Day 3
What's On: Wednesday 24th August at NZ Fashion Week 2016 Day 3. At fashion week today I'm wearing a black pleated dress by Mesop of Melbourne, a scarf, possum fur collar, and shoes Ecco. Photo by the lovely Desiree Clothing. Hair do by Fudge Dry Style Bar.
Below: with Chelsea Kirby of FUDGE Australia. Photo by www.annupam.com
A package of clothes has arrived from Mesop of Melbourne – I love their clothes. Thankyou Mesop!
Day 3 | Runway Recap, thanks to NZ Fashion Week.
Yu Mei – Offsite
Award-winning handmade leather goods designer Yu Mei has showcased her latest line 'Fine China.' The AW17 collection featured an assortment of structured handbags and clutches in black or buttermilk hues, while gold detailing added a touch of drama. Crafted from 100% deer nappa, Fine China highlighted the understated luxury that Yu Mei has become known for.
New Generation – Kendall Watt, Motel Bible, Danielle Power-Silk, Campbell Luke
Wednesday's New Generation show saw four of the country's most innovative up and coming designers present their much anticipated new collections. Kendall Watt delivered a luxe collection of beautifully cut feminine pieces, favouring dark warm colours. AJ Bradley of Motel Bible showcased her free and experimental design style with loose fitting garments, textured knits, and stand-out red ensembles. After debuting in 2011, Danielle Power-Silk returned to NZFW this year with the launch of her Collection Number One. The designer did not disappoint, presenting classic pieces that celebrated women and femininity. The Campbell Luke collection brought Maori influence with a modern flair to the catwalk.
New Zealand Weddings Magazine Show
The New Zealand Weddings Magazine Show brought the latest gowns and suits from top New Zealand designers.The 2016/17 collection featured Katie Yeung for Daisy and Hera Couture, Working Style, Alma Wong, Barkers, Modes, Rembrandt, and Trish Peng. These timeless yet contemporary collections featured soft tones, luxurious fabrics, and sharply tailored suits to create show-stopping pieces that would be centre-stage at any modern wedding.
Below: A stunning bride in the NZ Weddings show.
Below: Adam and Jarrod of Barkers, and models from 62, Red11, and Vanity Walk all in Barkers after the NZ Weddings show.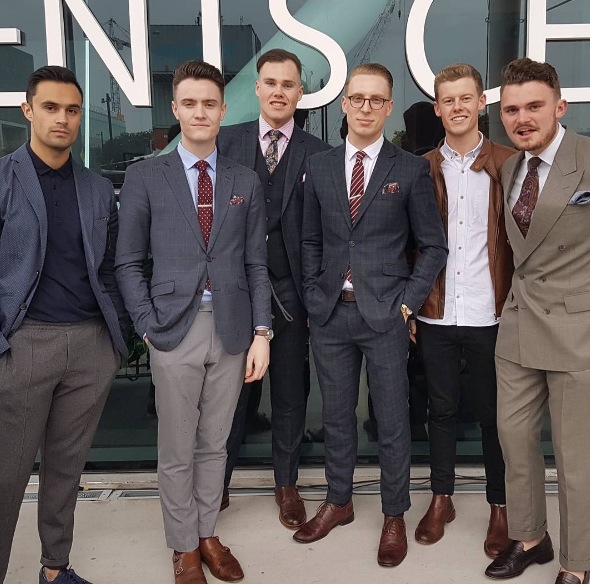 Below: walking over the viaduct harbour footbridge on a rainy day.
Below: Backstage with makeup artist Grayson Coutts, and Chelsea Cresswell of FAB group. I'm wearing a gorgeous pleated dress by Mesop.
Contemporary Salon | Penny Sage
Neutral tones, long flowing silhouettes and sheer fabrics; these were common themes in the Penny Sage show this afternoon. Sleekly styled models made their way down the runway in brown leather flats, delivering an elegant yet understated vibe. The Penny Sage A/W 17 collection featured soft, earthy tones complimented by the occasional pop of clear blue colour. Penny Sage designer, Kate Megaw excels at creating carefully crafted pieces with a modern twist.
Below: Another beautiful show by Penny Sage. I really loved all the floor-length gowns in draped, fluid fabrics, with keyhole neckline detailing, in particular a powder-blue dress with long sleeves – so pretty.
Twenty-seven names
The lines between art and fashion blurred at Twenty-Seven Names Winter 2017 collection. Rather than a traditional catwalk show, Anjali Steward and Rachel Easting collaborated with noted photographer James K Lowe to create an exhibition for 'No Stone Unturned.' Photographed against Te Henga (Bethells Beach), the models showcased a romantically elegant collection underpinned by an innate wearability.
Contemporary Salon – Lucilla Gray
Having shown previous collections in London and Paris, Lucilla Gray has often been touted as one to watch, and her A/W2017 show cemented this status. Her powerfully feminine pieces juxtaposed volume against slim silhouettes, while earthy tones contrasted beautifully with occasional bursts of vivid green. The garments were accessorised with oversized mod-inspired earrings, while dewy complexions and crimped hair completed a collection that spanned eras to create a distinctly 'now' aesthetic.
Hailwood
The audience gasped as the lights came up and revealed a full choir on stage in shimmery blue dresses, singing in te reo and NZ sign, for Hailwood's glamorous show. The AW17 collection featured sensual silhouettes with long hems and swaying skirts. Strutting in suede heels shoes, the models exuded modern glamour in shades of navy, beige and green – along with flawless casual wear that ranged from knitwear to carefully cut biker jackets and masculine coats. The floral patterns brought a feminine edge, followed by the stunning gold, silver and black tailored evening wear which inevitably became the show stopper.
The NZ Graduate Choir on stage dressed in blue singing in te reo, NZ sign, and Italian, for models walking at Hailwood.
Federation
Federation's return to the NZFW runway did not disappoint. One of New Zealand's most iconic streetwear brands, it featured oversized jackets, long T-shirts and loose pants with a few fur and sequinned pieces adding intrigue. The quirky prints stood out amongst a beautifully wearable colour palette of neutrals and dark undertones and each and every piece in the A/W 17 collection was effortlessly cool.
Stolen Girlfriends Club
Graphic prints and moody greys were present through the electric Stolen Girlfriends Club show. Held in the gritty surrounds of the old First Scene building, the cool kids of NZFW turned up in droves. Everybody's talking about that smiley face today and we predict it's set to be a new season favourite.
Megan Robinson 24th August 2016
Photos from ThreadNZ Instagram, and catwalk photos by www.annupam.com
Recommended