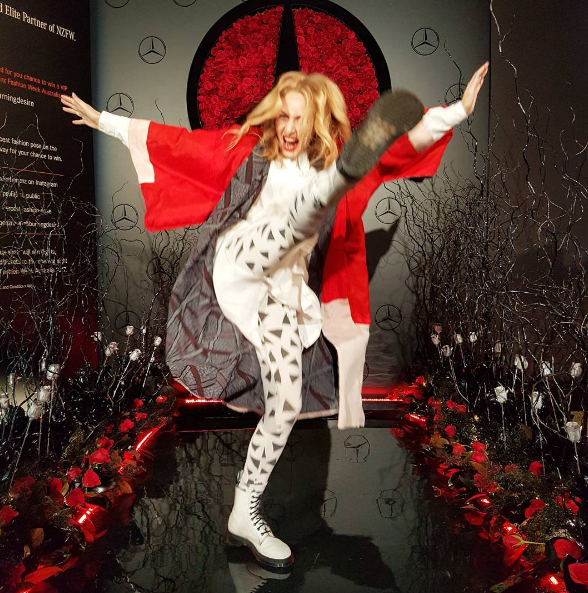 NZ Fashion Week 2016 DAY 4
What's On: My highlights in photos on Thursday 25th August at NZ Fashion Week 2016 Day 4.
THE SHOWS – Runway Recap by NZ Fashion Week 
HITO Seminar
The HITO seminar drew students from around Auckland interested in careers in the hair and beauty industry to watch as the winners of the HITO Hot New Talent Competition prepared models for an editorial shoot along with their mentors Samala Robinson and Mana Dave.
Knuefermann
Turet Knuefermann started day four of NZFW at her new concept store on Fanshawe Street, launching a 'Shop the Runway' concept where fashion go-getters could purchase their favourite looks in a few weeks time.The feminine yet powerful fabric collection was influenced by the Inca trail to Machu Picchu. A hyperbolically orange, black, and red striped coat brought understated drama to a collection characterised by craftsmanship.
Kharl-William Wirepa
International taste-makers US Vogue was front and centre at haute couture designer Kharl-William Wirepa's 2015 NZFW show, and his 2016 show further cemented him as one to watch. Inspired by royalty, the collection featured modern cuts juxtaposed against romantic silhouettes. Hand embellished Spanish fabrics in fuchsia, gold, red and black further added to the sense of opulent drama and theatrically fierce individualism.
NZFW Graduate Show, supported by Brother
The NZFW Graduate Show showcases the top three designers from fashion institutes, Massey: Grace Redgrave, Megan Stewart, Sarah Parker, Fashion Tech: Em & Cait, Not For You, Venin and Otago Polytechnic: Ariana Bray, JPalm, Winifred. A show that unleashed the talent of these debut designers highlighting a variety of styles. A range from bold colours to out-there patterns, the NZFW Graduate Show featured a bit of everything.
The New Zealand Post Miromoda Showcase
The New Zealand Post Miromoda Showcase brought another stunning collection to NZFW 2016. Ten designers who identify as Maori brought a myriad of aesthetics to create a collection that is both timely and timeless. The event also featured the 2016 Supreme Winners of the Miromoda Fashion Design Competition, Keri Wanoa and Brooke Strang of Wanoa Four.
Contemporary Salon: Carena West
Carena West made us dream of summer yet to come with her 2016/17 collection. Showcasing her pieces which featured high neck lines, big bows, a range of patterns and splashes of nudes and merlots. It was Carena's burkini which had heads turning, the full body piece covered in white flowers added a bit of difference to Carena's collection.
Malaysian Fashion Initiative presented by FSquare & FDI
FSquare and Fashion Diplomacy brought four of Malaysia's top emerging designers to our runway this week, with strikingly eclectic results. Pearly Wong started the show with a ocean palette, multifunctional origami cut-style collection. Kittie Yiyi's collection nostalgic childhood seaside collection with quirky, colourful pieces with frills, thrills sequins and lace. Ardana by Hari Haran presented an urban twist on tribal inspired collection with showpiece feathered headpieces and masks. Fairuz Ramdan shut the show down with an all white, zip deconstruction street collection with models wearing military hose gas masks.
Rochelle
Rochelle launched her A/W '17 collection at New Zealand Fashion Week. The collection, based on the sense of "renewal" showcased a new wave of elegant garments and sophisticated looks. Broken up into four parts, Rochelle took her audiences on a journey of cleansing. Her key pieces featured a beautiful flowered daisy pattern paired alongside navy's and electric blues. The high necks and off the shoulder styles gave a sense of both bohemian and corporate wear.
Huffer
This city ain't nothing without it's Locals. Huffer showcased their A/W 17 show 'Locals' at the Atrium on Takutai Square in Britomart wrapping up New Zealand Fashion Week. Huffer offered us an idiosyncratic take on street and skate style. Dust pink hoodies teamed with black gingham fabrics and Van sneakers gave punters a pretty edgy aesthetic to look forward to next winter.
Below: Chelsea Kirby of FUDGE and I. My hair thanks to the Fudge dry style bar on-site. Wish I could take them home.
Outfit photo: At fashion week today I'm wearing a white Meadow dress by Mesop of Melbourne, tights by Kowtow and Doc Martens from Platypus Shoes. Lipstick is Lady Danger by MAC. Photo by Annupam. Hair do by Fudge Dry Style Bar.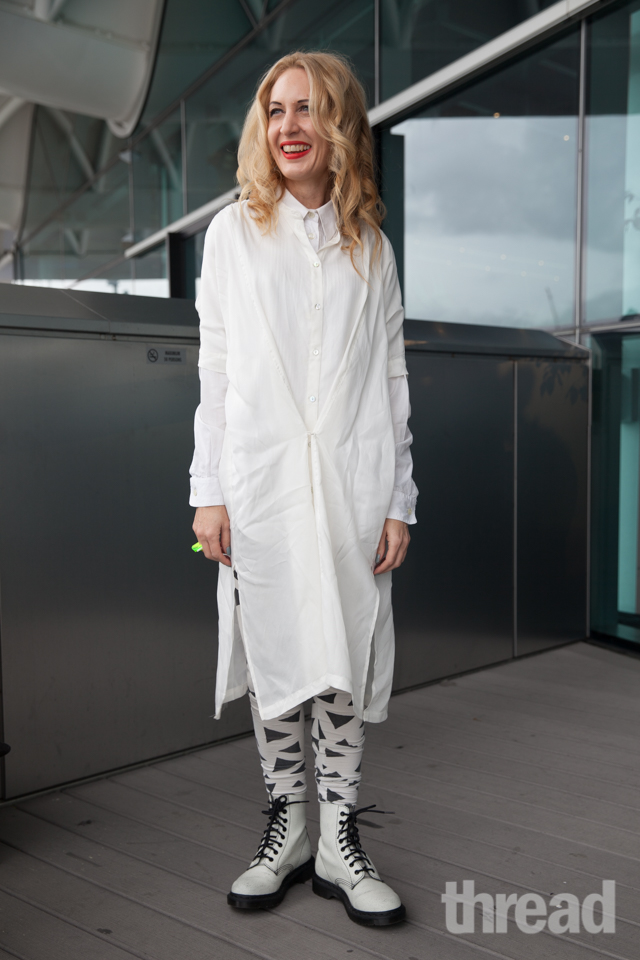 At the NZ Post Hub at fashion week! Thanks to NZ Post I'm giving away a double pass to FQ show this Sunday 28th August at 4.30pm, on thread.co.nz Facebook.
Kicking it down at fashion week at the Mercedes Benz kiosk.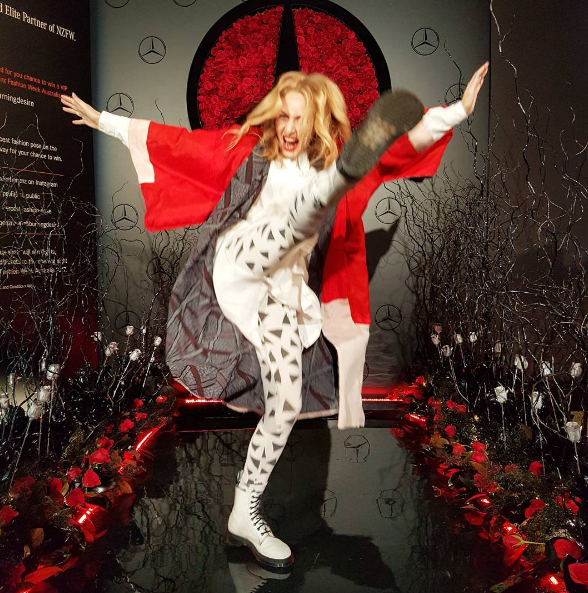 I loved the whole ROCHELLE show. So classy and so desirable.
Stan Walker performed live during ROCHELLE as models walked, including sports legend Maria Tutaia.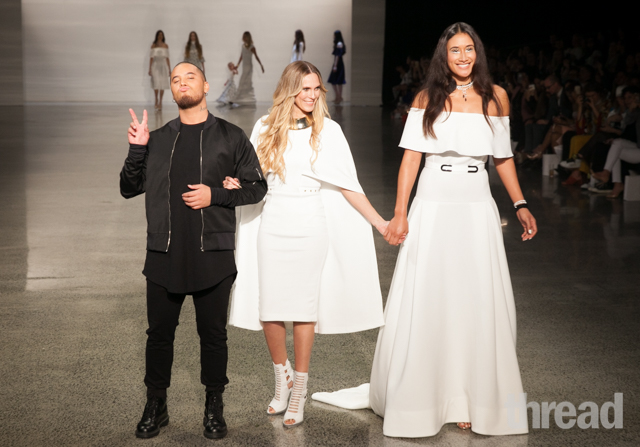 At HUFFER with Four Eyes bloggers Alex, Danny and Chin.
At Huffer before their show with Jess Hamlet. Photo by Ben Boyne. 
Megan Robinson
Thursday 25th August 2016
Recommended