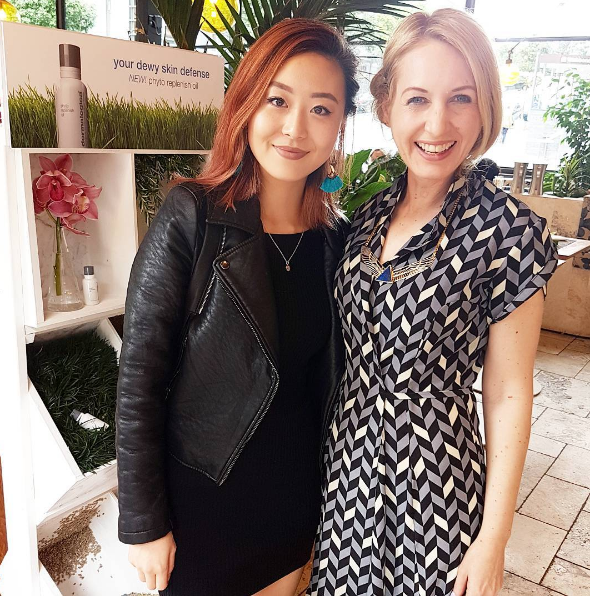 OUTFIT POST: WHAT I'VE BEEN WEARING NOVEMBER 2016
In this latest outfit post column I showcase some pics of what I've been wearing in November 2016 around Auckland. It's mostly a collection of my outfits on my Instagram which you can follow over at www.instagram.com/threadnz to see daily updates and what's new.
Intro image: At Dermalogica with Sophie Chung of M2 Woman. I'm wearing a geometric print dress by Hailwood.
Above: I'm wearing a beautiful silk scarf from the summer collection from New Zealand brand, Loobie's Story.
Above: wearing a blush longsleeved dress by Zambesi, over grey lace trousers, with Lauren Gunn. Blowdry at Colleen salon using Kevin Murphy.
At 'Grease the Musical' at Bruce Mason Theatre in Takapuna, wearing a Sandy outfit! I got an off the shoulder black tee at Savemart secondhand store and teamed it with some skin tight leggings, a silk scarf and a black leather belt, for that 1950s bad girl vibe. This hot rod really makes for the perfect accessory.
At the Trolls movie premiere dressed up in Trolls gear and pink hairspray! Purse by Vivienne Westwood; shoes by Boohoo.com; top by Kate Sylvester; kids dress up tutu. What a fabulously fun movie for kids of all ages.
Above: Wearing Heroine lipstick by MAC cosmetics, dress by STORM, gold face badge by Kate Sylvester. I love shopping at secondhand stores, and on sale, because to be honest I love a good deal. If you'd like to get your hands on some great shopping deals, check out OZCodes! 
Megan Robinson
30 November 2016
Recommended