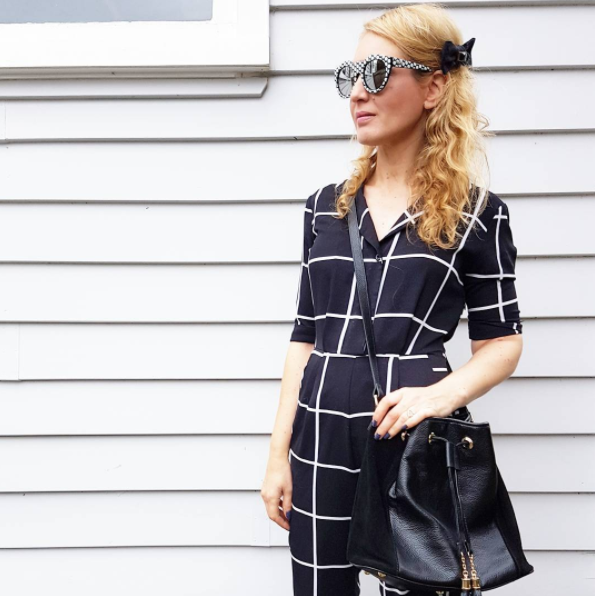 OUTFIT POST: What I've Been Wearing in September 2017
In this latest outfit post column I showcase some pics of what I've been wearing in the month of September 2017 around Auckland. It's mostly a collection of my outfits on my Instagram which you can follow over at www.instagram.com/threadnz to see daily updates and what's new.
OUTFIT POST: What I've Been Wearing in September 2017
The weather has been unpredictable, and so I've been pretending it's summer, and taking layers with me. Intro image: Leather tassel handbag by Addison Road from TVSN, jumpsuit Boohoo, glasses Le Specs, hair bow Natalie Chan.
Double denim: Top by Charlotte Lane, jeans Scarlett from Echo Boutique Devonport @echo_designer_boutique. The top has straps if you prefer to wear a bra or you can fold the straps down for off-the-shoulder. The size is very loose (this is an 8) and it's $29 @charlottelaneclothing.
Such a nice day today. I don't want to jinx it by saying Spring is back, but it definitely feels like it's in the air! What I wore today; Zambesi, Trelise Cooper, Turet Kneuffermann, Issey Miyake, Miglio Jewellery, Alex Perry for Specsavers glasses.
At charity lunch 'What Women Want' at Langham Auckland today with Eye Magazine and Continental Cars supporting NZ Heart Foundation. I'm wearing kagi jewellery coral necklace and dress by Turet TK Store. Simone Anderson wears dress by Showpo.
Wearing MAC lipstick in Studded Kiss and new Kenzo eyewear from SmartBuyGlasses. Pleated top by Issey Miyake, flower top by Trelise Cooper.
Saturday- jeans and a blazer. Outfit photo by my daughter. I'm wearing Levi's, Trelise Cooper top and Trelise Cooper blazer, Deadly Ponies handbag, Kathryn Wilson shoes. At Aotea Centre for Romeo and Juliet ballet today.
I'm wearing a vintage kimono, and my new grey leather Addison Road handbag, from TVSN available at www.tvsn.co.nz
The Addison Road handbag again with a grey marle Karen Walker dress.
What I wore today. Best backdrop ever- the Northern Club, for Clarins fragrance launch. Photo by Melissa Jack @thebestnest I'm wearing a Karen Walker dress, scarf, and belt, cream leather vintage blazer, clutch by Seed Heritage, and shoes by Kathryn Wilson.
Florals for Spring. Outfit: dress I sewed, over Trelise Cooper sequin shorts. Kathryn Wilson footwear. Necklace and bracelet Shh by Sadie.
A lovely lunch today at the new cafe in Akoranga Drive (next to YMCA) The Glasshouse Cafe. It has these two living trees indoors, does their own coffee, has a safe enclosed children's play area, and a delicious menu. I'm wearing violets top by Clements Ribeiro and hydrangea skirt by Stolen Girlfriends Club. Bag Addison Road, boots by Mollini. Purple lip MAC in Strutting Fabulous. Photo by Trudi Bennett @wardrobeflair
Vintage white lace dress. Earrings from General Collective.
At the Aotea Centre tonight for Auckland Philharmonic Orchestra The Legend of Zelda. Coast Scarlett, bag Marc by Marc Jacobs, shoes Mi Piaci, dress vintage.
Boots Doc Martens from Platypus Shoes, dress vintage, watch Christian Daniel Watches.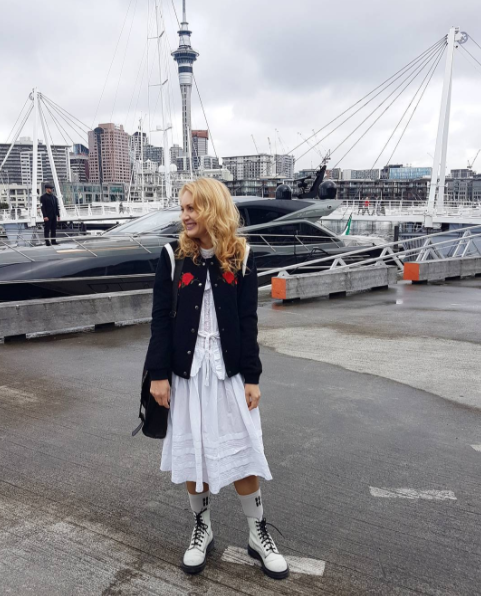 As above, with jacket by Dotti.
What I wore today. Dress Trelise Cooper, cutaway sleeve mesh top by Cybele, bag Addison road from TVSN, blowdry Biba, nails Essie, makeup Smashbox.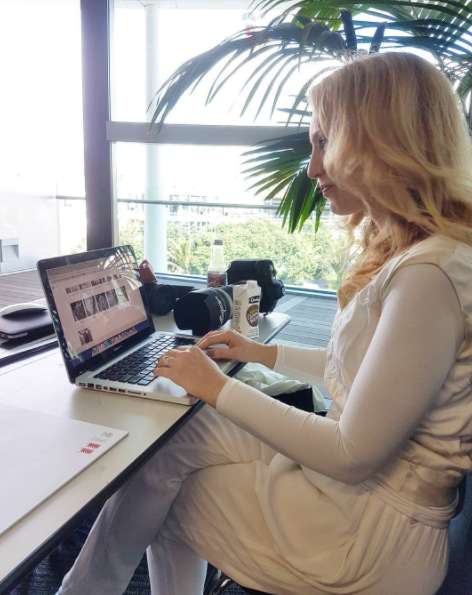 Working away at fashion week media centre. Pants by Trelise Cooper, top vintage, longsleeve top uniqlo.
Megan Robinson
30th September 2017
Recommended