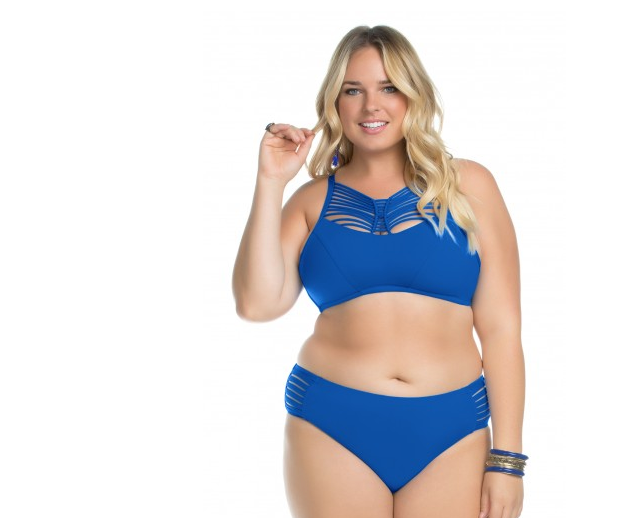 Shopping Tips for Plus-Sized Swimwear
Shopping for swimwear when you have a curvy figure means it is really important to find a style you love.
You want to feel really comfortable on the beach, or by the pool, which is why you should take the extra time to find a swimwear style that you adore wearing. The more comfortable you feel, the more confident you will be. After all, a day at the beach is no fun if all you want to do is hide away under your sun umbrella.
Look at a variety of styles, and see which ones appeal most to your personal tastes.
The Practicalities of Plus-Size Swimwear
Ask yourself, what do you want your swimsuit for? Will you mainly be sunbathing, or do you need a high-functioning sports suit for volleyball and water tubing? This will determine the type of suit you choose. Sure, looks are important, but swimwear also needs to be practical. A lined bra section is ideal and straps should be strong, but comfortable so that they don't dig into your shoulders. Do you need extra bust support? Look for underwiring or a shelf bra if you don't like underwire.
Pick Your Style
COMBO – Swimsuits combined with a loose fitting beach tunic, such as those on offer in the Becca swimwear range, are perfect for fuller figures. You can wear the cover-up if you don't feel confident walking around on the beach in your swimwear, but take it off when it's time to swim.
TANKINI – Tankini swimsuits are a popular choice for a plus-size figure. You can wear the same colour on the top and bottom, or mix them up for a contrasting look.
WRAP STYLE – Faux wrap designs are also really pretty and the draping style of the fabric at the waist adds that retro 'Mad Men' look.
CLASSIC – Skirted briefs are another design choice. All-in-one swimsuits look great on a fuller figure. A lower-cut leg line or boy-leg bottoms look great on a curvy figure too.
Patterns and Prints
Don't be afraid of wearing patterned swimwear. It's easy to fall into the trap of wearing plain black swimwear if you have a curvy figure. Black is slimming, but an attractive print fabric from a collection like Becca Swimwear is great if you want to showcase your style. Look for pretty paisley patterns or cute floral designs.
Retro Bikini Babes
The beach is where you are on show to the world. Instead of covering up, show off your amazing figure to its best advantage. 1950s retro style bikinis are fabulous on a fuller figure. This is the type of bikinis pin-up girls wore. Polka dots, ruche detailing and bold colours are not to everyone's taste, but if you want to attract some attention on the beach, this is a good style to choose.
Beach wraps
When you take a pretty beach tunic with you when you hit the beach, look for floaty styles that provide extra protection from the sun. This, combined with a pair of oversized designer sunglasses and a floppy straw hat, will transform you into a sexy screen siren. Channel your inner Sofia Loren and ooze glamour on the beach.
And Lastly
Wear whatever you like but remember, you'll only wear it if you feel comfortable in it, so buy a suit you feel comfortable in!
4th February 2017
threadnz.com occasionally receives monetary compensation or other types of remuneration for mentioning and/or linking to any products and services from this blog.
Recommended