Style: see what health & beauty media are wearing
In this latest style post, see what some of the gorgeous New Zealand health and beauty media wore at a high tea for the launch of Lifestream's new look in Grey Lynn this week.
The weather really showed up to make it a great day, as we heard firsthand from Lifestream ambassador, nutritionalist and author Janella Purcell, on making wholefood using their healthfood products.
At the event, it was great to see lots of New Zealand labels – both in fashion, in shoes and accessories and jewellery – on the women.
Below, L-R: Rachel Grunwell of Inspired Health & Yoga, and Makaia Carr of Motivate Me.
Rachel wore a one shoulder jumpsuit by RUBY.
Makaia wore a floral maxi skirt by Augustine by Kelly Coe with a Repertoire black tank top and acorn pendant jewellery by Kagi, with shoes by Mi Piaci.
Jana-Lee Carr was looking exceptionally cute in her cool hair braid, and her white lace dress is from Pumpkin Patch. Also – how great were these parasols that were at the venue to keep the sun off with? Such a good idea.
Lorna Subritsky of Coast FM and Trudi Bennett of Wardrobe Flair.
Lorna wears a Neiman Marcus dress. Trudi wears a Cue dress and vintage metal-mesh bag from Yellow Belle in Takapuna, which helps women's refuge.
Trudi's vintage mesh purse detail.
NZ Herald Viva magazine's Emily Durham and Anna Lee.
Emily Durham wears a Dotti dress and shoes by Overland Footwear (now Merchant 1948). Anna Lee wears a white blouse by Sakahachi, a Karen Walker bag, Louis Vuitton necklace, shorts by Country Road, and shoes from Wild Pair.
Megan Robinson of Thread.co.nz wears Ecco shoes, Glassons dress, Mi Piaci clutch, Karen Walker jewellery, Kagi jewellery ring.
Below right: gorgeous Kelly Dingle of lifestyle blog 30vs30, in a grey Cotton On ruffle-hem dress, Alex Perry eyewear, and Colette accessories.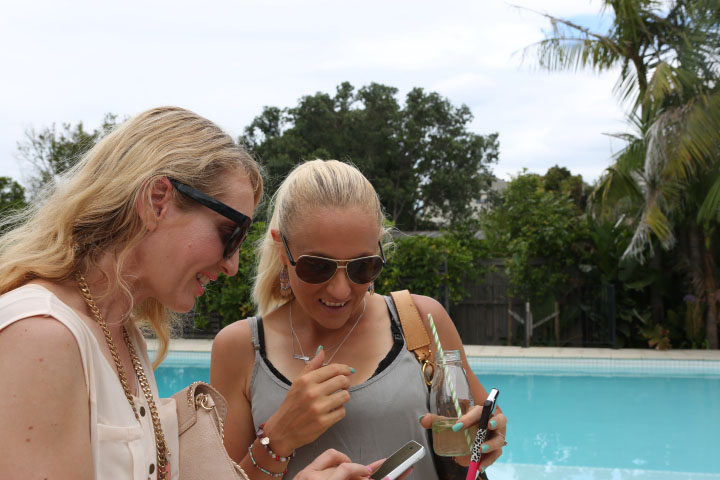 Megan Robinson
27th January 2016
Photography by Iris Chan
Recommended