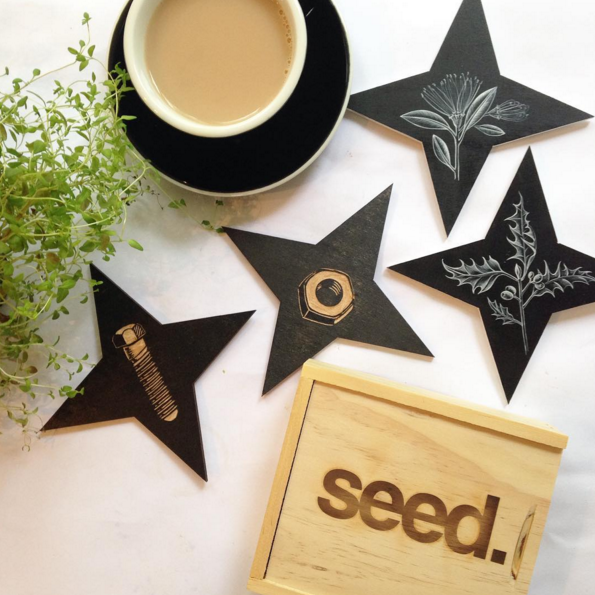 The Week on Thread Episode 26
The Week on Thread Episode 26 featuring highlights of my week in pictures including fashion, food, gift ideas, skincare, and beauty…
Seed Gallery
I've known the girls at SEED Gallery Newmarket for years, and they curate incredible local artists and each Christmas they do affordable mini artworks for $80. This year the theme is #seeingstars with a variety of artists including these cool ones here.
Buy at @seedgallerynz
5,000 on Instagram @ThreadNZ 
Exciting stuff- I have reached my goal of 5k lovely followers on Instagram! I celebrated with a big giveaway and it was so popular, I'll do it again at the next milestone. Thank you so much for following and reading and interacting. 
Age Concern hampers
I'm making up some gift hampers for Age Concern after reading that some elderly don't get any presents and taking them to the drop off centre tomorrow. I feel children's charities get lots of attention but the elderly can be overlooked in today's world. Their phone is 09 489-4975 if anyone wants to help their annual Sponsor A Senior appeal in any way, or with food. 
Charlotte Lane Clothing
Selfie in my new necklace from Charlotte Lane Clothing- I love it! Metal and crystal, $49.
Pure and white
Snowberry New Radiance Face Serum, Little Island coconut milk smoothie, OPI Hello Kitty, and a white feather handcrafted Christmas bauble from@thewarehousenz PR girls- my first Christmas present!
Little & Local cafe
We went up north for a night and discovered this great cafe at Snells beach called Little & Local. Lovely charming place and great coffee and counter treats as well as a small arty cabinet of art for sale. 
Megan Robinson
23rd November 2015
Recommended