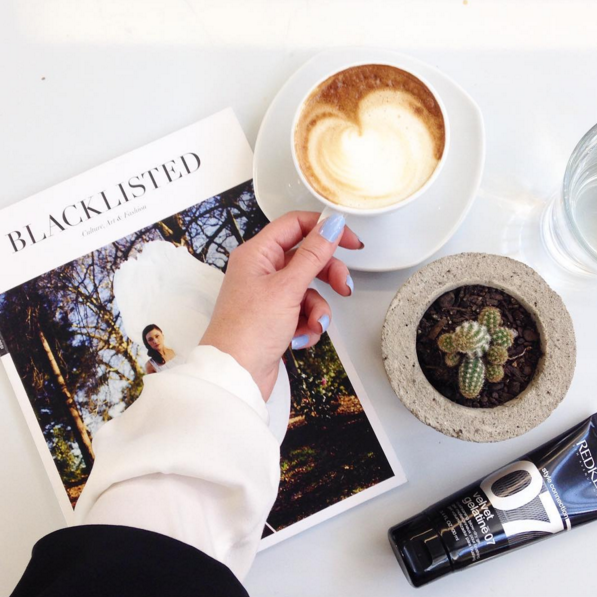 The Week On Thread Episode 27
The Week On Thread Episode 27, featuring highlights of my week in pictures including fashion, food and beauty from BLAZE, Trelise Cooper, Boh Runga and Lindi Kingi Jewellery collections, and showroom days at Lily & Louis PR and Beat PR, as well as some Santa action out at Snowplanet. Read all about it…
BLAZE Hair 
On Tuesday I started off the day well by genjoying a cut and colour over a relaxing flat white and Blacklisted mag at BLAZE on Broadway Newmarket with the awesome Kirsty.
LINDI KINGI 
Over at Publicity PR showroom, I saw a new, elegant direction from LINDI KINGI Design, with delicate silver jewellery and stacking rings, above.
BOH RUNGA
Totally LOVE this fantail silver necklace by Boh Runga (yes I gave it back but it was hard. You can buy at www.themintrepublic.com)
Elizabeth Arden boutique
Big news in beauty: the very first Elizabeth Arden boutique in Asia-Pacific, has opened on 24th November, right here in Auckland at 62 Queen Street. The gorgeous Jane Hitchfield and I at tonight's opening. Read more about it here on Thread.co.nz.
Trelise Cooper AW16 
With Trelise Cooper at her winter showcase for fashion media and stylists today.
BEAT PR
Fashion snacks, at Beat PR showroom day, with OVI, Pressed Juice, and delicious cakes. We viewed AW16 collections by their fashion brands represented in their College Hill showroom including Hideseekers, Boohoo, Nineteen46, Bird & Knoll scarves, and many more. Fashion…and food… what more does a girl need?! All the pretty things, at the @beat_nz showroom day.
LILY & LOUIS PR 
This is gorgeous little Lily, one half of the pair of dogs that lend their names to Jacqui Ansin's stylish PR showroom at LILY & LOUIS PR. Lily is resting after having been hard at work on the scout for dropped canapés. I enjoyed seeing their fashion ranges as well as a cheeky Chambord cocktail. 
DE PAUL HOUSE 
Tis the season for giving! I'm dropping a few little things into De Paul House helping homeless families. If you have anything you want to give them – or food items – call 09 480-5959.
SANTA AT SNOWPLANET 
I'm in Santa's Magic Castle at Snowplanet having the BEST Santa experience I've had in Auckland. Bookings are essential on 0800 SNOWPLANET or (09) 427 0190 email: santa@snowplanet.co.nz. A Santa Visit for a family (2 adult + 2 child) includes Santa photo, lollipop for child and 3 tubing runs per person for $48 a family. Read more about it at my feature on Christmas events for Kids on Thread here. 
Megan Robinson
30th November 2015
Recommended