The Week On Thread Episode 36
The Week On Thread Episode 36 with highlights in pictures of what's been awesome this week, in particular, SMCAKL Social Media Club Auckland discussion on Twitterati vs Journalism, Kmart launches Active & Co line, Antipodes blogger meet n greet at Sofitel Auckland, and lunch at Cibo.
Had a fantastic night at #smcakl Social Media Club Auckland tonight with the discussion on Twitterati vs Journalism and clickbait plus free pizza and Invivo wine- what more could you ask for?!
We heard from a panel with Alison Mau, Jess Etheridge, Ben Ross, and Bernard Hickey, MCd by Adrienne Kohler. Here are some highlights and snippets from my own Tweets below and you can view it on their website and also at the Twitter hashtag #smcakl.
Leading news story clickbait topics – sex, housing, dirt, weather, and crime.- Bernard Hickey.
Keep it polite, keep it kind, keep it intelligent.
Vaughn Davis says BECOME the media.
People say vile things on Twitter they would never say in person or phone, especially abuse at women; see gamer gate.  – Bernard Hickey.
Find a good outrage on Facebook and make it into a clickbait article = new flawed journalism model. Some journos are PAID on clicks.
A clickbait on Herald is from Daily Mail, from a 4mth old article on Reddit! said Adi Kohler. This generates good cpm says Bernard Hickey.
"The news media as the immune system for a democracy" vs Donald Trump. – Bernard Hickey.
Kmart has launched a fitness performance line, Active & Co, with stylish, comfortable and affordable footwear and workout clothes with technical fabrics such as Coolmax. Available nationwide from 18th February.
We are SO EXCITED at the news that Frozen is featuring in the Disney On Ice New Zealand tour this July! We are HUGE Frozen and Disney fans! ❄️❄️❄️ Tickets are now on sale at Ticketmaster. Do you want to build a snowman? I sure do! I get to build and eat frosty snowmen cones with candy arms and noses, at @blendfrozen at Craft Kitchen in Ponsonby, thanks to Disney On Ice. I'll post a photo of my Olaf later 🍦❄️ bouquet by www.missblossom.co.nz
Britomart Fashion Sessions are hitting Britomart again this year 25-27 February with in-season public catwalk shows from Kate Sylvester, Zambesi and World; Trelise Cooper; Juliette Hogan; Taylor & Ted Baker; and Kathryn Wilson. Buy tickets at Britomart.org (incl goodybag and an hour of drinks beforehand) or stand and watch shows for free.
Above: I headed into Sofitel's Sabrage Bar to hear all about the fabulous @antipodesskincare tonight. The founder Elizabeth Barbalich names her products – which combine the best of science and nature and are all cruelty-free – with uplifting titles with a spiritual bent, including Joyous serum, Saviour skin balm, Resurrect toner and Apostle serum. Thread has featured and enjoyed the New Zealand skincare brand over the years: back in 2012 we covered when Antipodes was been accepted into Selfridges' natural beauty department which opened in Spring (so in London's Autumn) in their famous Beauty Floor. To get stocked at Selfridges is an amazing feat and they were the only New Zealand brand in this new natural beauty department. In 2013 they launched their beautiful mineral foundation and lipstick range and Thread went to the Auckland launch. The great thing about the mineral powder foundation is its skin-improving qualities. After all, the best makeup is having great skin. It uses Vicenza Performance Plus to improve skin; an anti-aging formula of extracts from kiwifruit seeds and antioxidant-rich grape seeds. The foundation comes in four shades – which apparently covers 90% of the market – pale pink, light yellow, medium beige, and tan. They cover redness well and can be layered for added coverage. See their website www.antipodesnature.com for stockists. 
What I wore today. A lovely lacy top by Boohoo, silk dyed pants by Trelise Cooper, jewellery by Karen Walkerand shoes Kathryn Wilson.
Having an AMAZING lunch here at Cibo in Parnell. Thankyou Cibo for hosting us and for the Taittanger champagne we absolutely loved the 3-course express lunch and can't wait to return. PS such a delight to see the stuffed zucchini is back on the menu I recall it well from years ago.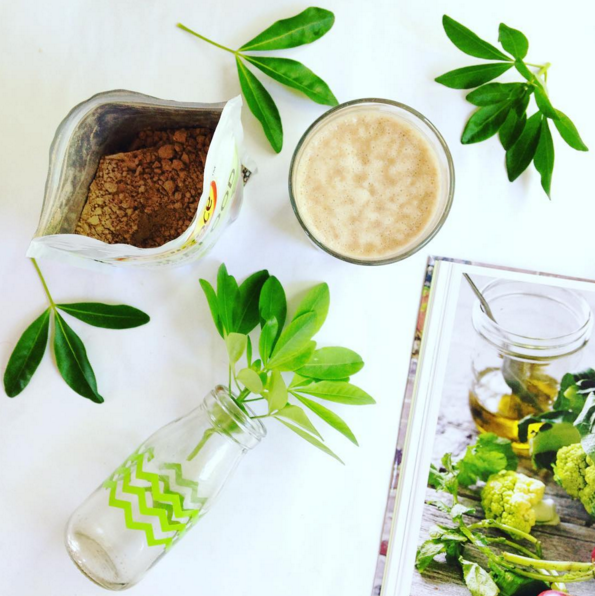 Having this yum Wholefood Smoothie protein and superfoods powder in mint & cacao by Radiance; it's like a chocolate mint shake but very healthy.
Humble Honey Soda is sweetened with honey and stevia not sugar and it not only tastes amazing they support bee environments. This pack even came with wildflower seeds for me to sow at home for happy bees 🌻🐝
Blogging on a Sunday night looks like.
I'm going to be organised with my Blacklist Store pad, and checking out the new season collections thankyou Seed Heritage and French Connection! 😘
Megan Robinson
22 February 2016
Recommended