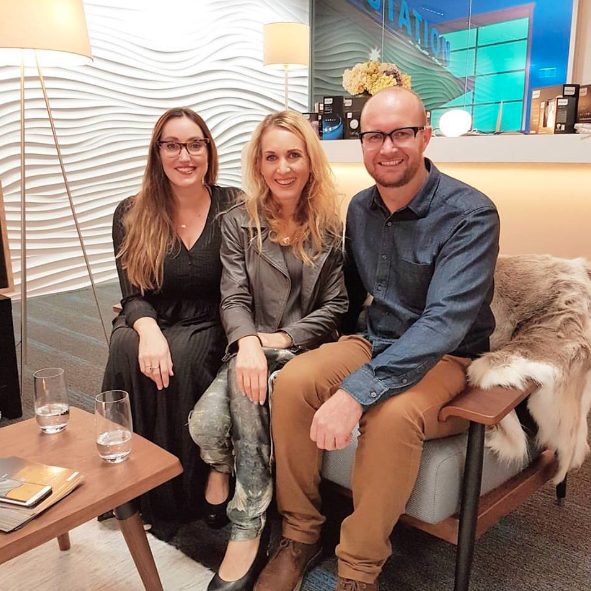 The Week On Thread Episode 47
The Week On Thread Episode 47 with highlights in pictures of what I've been up to lately in the worlds of fashion, beauty, and more…
Philips HUE
With Alex and Corban at Philips Hue media brunch to hear about the WiFi-controlled home lighting. Good lighting is everything! Accessories available to buy at their home wares store @alexandcorban. I'm wearing Trelise Cooper trousers, Kathrrn Wilson shoes, Issey Miyake top, and Lonely Hearts leather jacket.
Below: Alex Walls of Alex and Corban and I, at Philips Hue media brunch today.
Went here to this cute cafe today at Milford Mall, really liked all the Orla Kiely prints.
Shopping at the new Rose & Thorne lingerie store in Milford Mall. So many great styles, bras from $15, pants from $8. PS how nice is Milford Mall?!
Loving my Minnie Cooper pony skin Five Star Slippers! It can be so hard to find really lovely looking, and sheepkin-lined, comfortable slippers, and these ones are made in quality leather and handcrafted in New Zealand keeping jobs and skills in NZ. $139 at www.fivestarslippers.co.nz
What a cool recycling idea! Meadowfresh have sent me a recycled yoghurt pot with my portrait growing cress as hair! Kids would love this as craft.
Here at Bath St Gallery in Parnell Auckland for the fashion preview of H&M.
With Lorna Subritzsky of Coast FM @radiomum about to see the NZ premiere of Independence Day Resurgence.
I can protect earth from alien attack with my Independence Day Resurgence headphones!
At BLAZE Newmarket having a haircut and blow-dry using Redken.
New hair by Kieran at @blaze_hair using @redkennewzealand I'm wearing leather jacket by Lonely Hearts, dress by Cybele, belt Mala Brajkovic, leggings TKSTORE, boots Styletread.
And now I'm donning a wig, as today is #WigWedNZ for Child Cancer Foundation.
We totally loved Roald Dahl's The BFG movie; a magical take created beautifully by Steven Spielberg- his first ever film for Disney. We were given these dream jars to take home and write our dreams inside.
The breakfast bircher muesli cups at airbnb media breakfast on Friday.
Wowsers Redken I'm so stoked to get one of your Zambesi colab packs with amazing Redken New York haircare, and a Zambesi trucker cap- so cool!
Beautiful sights and smells at today's Ecoya media launch.
Outfit today- white Doc Martens from Platypus Shoes, bag Saben.
Make It Work! I have a Tim Gunn teeshirt thanks to SKY TV bringing Project Runway Junior season 1 to Vibe on Thursdays from 14 July at 9.30pm and encores on Saturdays 6.30pm.
We loved Disney Pixar sequel to Finding Nemo, with a new adventure that reunites old and new friends, in Finding Dory.
29th June 2016
Megan Robinson
Recommended