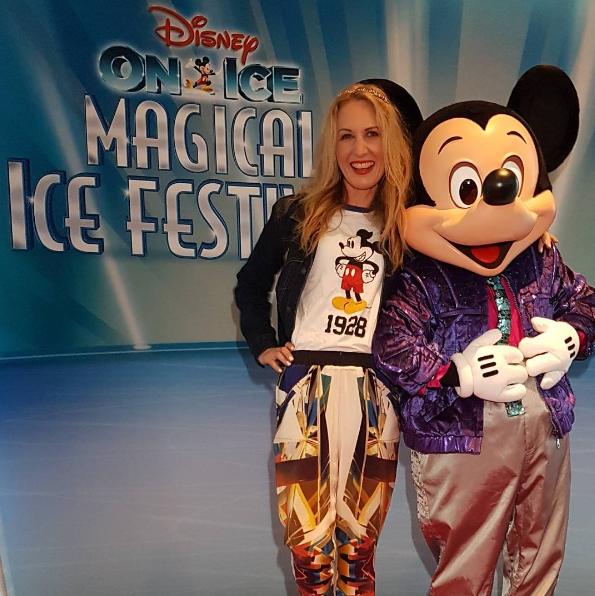 The Week On Thread Episode 50
See what I've been to in The Week On Thread Episode 50, with highlights in pictures of the worlds of fashion, beauty, and more, including Disney On Ice, Jockey with Matilda Rice, The Food Show Auckland, Jason Bourne, Absolutely Fabulous, and the David Jones opening…
Life goal unlocked. I got to meet Mickey Mouse at the Disney On Ice meet 'n' greet held at Hilton Auckland on Saturday, ahead of the 2016 New Zealand Disney On Ice tour. 
Here we are at Disney On Ice meet n greet at the Hilton hotel Auckland ahead of Disney On Ice NZ tour. Lorna Subritzky of Coast FM @radiomum, Wendy Lester @wendywings , Megan Robinson of @threadnz, Melissa Jack of @thebestnest, and Maria Foy of @happymumhappychild.
Coffee time at St Paul's. I'm wearing a grey Pleats Please top by Issey Miyake, grey tee with crochet flowers applique by Trelise Cooper, jeans from ECHO designer outlet Devonport, boots by ECCO Shoes. 
Good morning! Breakfast is Kellogg's Apple Crunch, 100 Years of VOGUE, tulips bought at Farro Fresh, and coffee cup by DeLonghi.
Surrounded by all these beautiful young things, at Disney On Ice meet 'n' greet today at the Hilton Auckland. Maria of @happymumhappychild, Vanessa of @thebubbalinokitchen, Beth Morris of @themorrismob, and Penny of @littlehousewifelimited. Photo credit Wendy Lester @wendywings
Jockey hosted fashion media on Tuesday morning to meet Matilda Rice, star of The Bachelor NZ, and face of the new season line of undergarments that are pretty enough to be seen- especially the singlets which double up as outerwear. Matilda Rice has teamed up with Jockey for this stylish new athleisure range that looks good and feels great to wear. 
Later on Tuesday night, was the long-awaited Absolutely Fabulous media screening. Lots of laughs for fans of the original TV show. Why not dress up as Patsy and Eddie and take a girlfriend to it?
You know his name. Wednesday saw my hero Jason Bourne take to the big screen again in JASON BOURNE!
On Thursday in Auckland we headed along to The Food Show at ASB Showgrounds, Auckland.
There were really too many highlights to mention, with many beloved brands sitting alongside new and interesting products we'd never seen before – which is the great thing about The Food Show. These larger-than-life margarine sculptures were cool!
We also liked seeing this new NZ company producing Aloe in Korea. They have a sparkling option which I'd never come across before. Yum!
Here's a new caramel flavour for Lewis Road Creamery. Also, it was great to see a gluten-free My Food Bag option for families is available since Feb.
Thursday 28th July was finally the night: the opening of David Jones in Wellington. 150 VIP guests and celebrities joined the Prime Minister in opening the new retail giant on Lambton Quay.
Read about the black carpet VIP party by Rhiana Clarke here and our fashion report from Teesh Saunders on day one of the store here.
Megan Robinson
29 July 2016
Recommended