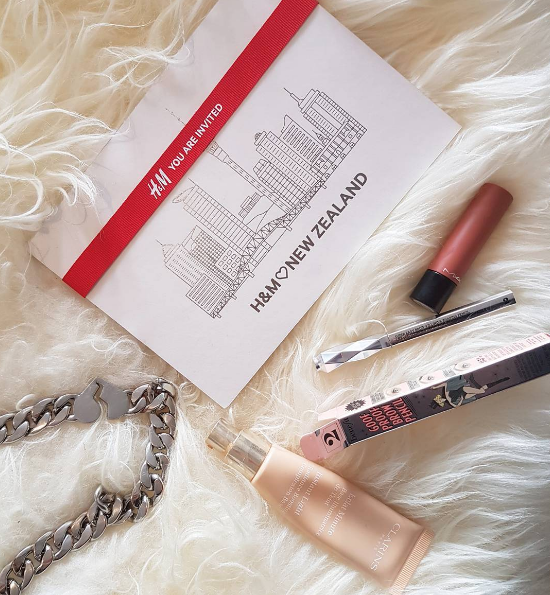 The Week On Thread Episode 58
The Week On Thread Episode 58 featuring highlights in photos of what I've been up to…
They haven't asked me to say this, I just do it myself and thought I'd share the love; you get 50 photos a month free on the Snapfish app I've done it for 3 months now, printing the family snaps off my phone. 
A beautiful velour round beach towel and pink gerberas from Ovi with their new watermelon drink. Yum; I actually love anything watermelon.
New Zealand beauty media have gathered tonight at Eat my lunch NZ, for Ultraceuticals beauty launch of their Ultra C23+ Firming Concentrate and Ultra UV Protective Daily Moisturiser SPF50+. We are hearing all about the high performance beauty brand which is the most-awarded beauty skincare brand in Australia. It is also cruelty free. Read about it on Thread here. 
With Janelle Rennie of mediajam and Chrystal Chenery at Ultraceuticals.
What I wore today: Cybele top, Stolen Girlfriends Club hydrangea print skirt, and Kagi jewellery. Getting snapped at Ultraceuticals beauty launch by the photographer, while Colin Mathura-Jeffree snapped us both- it was so meta. 
The giant inflatable bunny in the room. At Ultraceuticals beauty launch at Eat My Lunch.
With Benny Tipene at Sony Music new music gig tonight at Brothers Beer at City Works Depot.
Thomson playing at Sony new Music gig tonight at Brothers Beer at City Works Depot. You may recognise Lorde's drummer Jimmy Mac on drums.
Alex and Ani jewellery, sustainably from recycled brass. I'm wearing top by Mossman and possum collar. Nailpolish essie.
I'm wearing Alex and Ani jewellery at the launch in Hotel de Brett today. I love the pieces ethically and sustainably made from recycled brass, all made in Rhode Island. I'm wearing skirt by Zambesi, top by Mossman, boots Ecco.
Perfect timing for lunch – Lewis Road Creamery now have a sourdough bread in their bakery goods range.
H&M held a red carpet opening party at Sylvia Park on 29th September 2016.
Below: I'm with the fabulous Kris Fox at H&M.
Below: The very gorgeous Silver Fern Maria Tutaia and Sarah of @jayandsarahnz and I.
Should every retail store have a free cocktail bar in it? I say YES. I'm sure it wouldn't hurt sales, either.
At Adairs NZ homewares launch. They are going into Sylvia Park on 20th October then later into Bayview. Very Instagram-and-pinterest-friendly, Scandi neutral styles in that contemporary look, that you can dress up with unusual pieces or vintage. If you like the modern look of brands like Citta and Freedom and Ikea then you should definitely check this out. It's online soon then in Sylvia Park. I'm wearing: vintage dress by Walter Kristensen, straw cadet hat by Karen Walker, mesh top by Cybele, necklace by Saben, leggings by Lonely lingerie.
Megan Robinson
3rd October 2016
Recommended