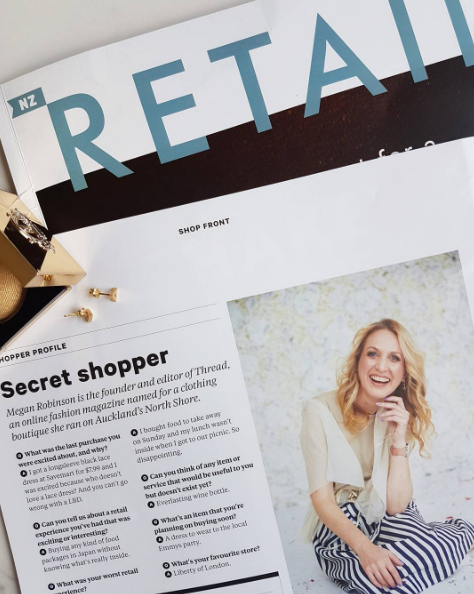 The Week On Thread Episode 60
The Week On Thread Episode 60 featuring highlights in photos of what I've been up to…
Intro image above: It's me! I'm profiled in NZ Retail, theregister.co.nz fashion industry magazine.
With the ridiculously beautiful Brooke McAlister Daji at the Revlon x Chloe Morello launch at Soul Bar.
The Revlon colab with Australian blogger mega star, Chloe Morello, features this new contour kit in light medium or medium dark colourways.
Congrats Nadia Lim on the launch of your food magazine, Nadia. Stay tuned as I'm very lucky to be cooking Nadia Lim's My Food Bag "Dinner Party Bag" this Sunday. Can't wait!
Ray Meagher (Alf in Home & Away) starring in Priscilla Queen of the Desert at Civic theatre.
What I wore at Priscilla Queen of the Desert; dress by Duchess, necklace by Zoe & Morgan, shoes by Kathryn Wilson.
Real sized Barbie sent to my daughter from Mattel. Available at The Warehouse.
Sisters Rachel and Tamara have started ESALARE online sleepwear and loungewear sourcing the best international brands in silk and cottons. The website opens on Monday 17th October 2016 and it is perfect for a special gift as well as treating yourself.
Beautiful sleepwear from ESALARE, now online to shop at www.esalare.com
I'm not cooking tonight because I'm going to Dine in the Square at Northwest shopping centre, with @thebestnest to an alfresco 7 course banquet and entertainment, hosted by Chef Michael Van de Elzen and Jacquie Brown.
With chef Michael Van de Elzen and Jacquie Brown at Dine in the Square at Northwest.
In my happy place having a relaxing flat white and reading magazines. Getting a much-needed haircolour at @blaze_hair staying blonde, no surprises there! This moochi vinyl purse with 3 mini hair products is a free gift with purchase when you buy 2 Redken products at salons in NZ, making it a good time to stock up.
Swatching the MAC eyeshadow at today's MAC Technique event.
Selfie of hair plait by Blaze, by hairstylist @sarahashleymorris. Hairpiece from Lovisa. Dress I got secondhand at Savemart. Makeup by @nicholaslangman at MAC.
At Billy Elliot musical at ASB Theatre with Simone McCallum and Vanessa Rehm of the bubbalino kitchen.
Kiekie Stanners slaying as per usual at the MAC Technique app media launch.
It's like makeup school: the hi-tech version, here at MAC Technique app media launch. Best desk ever! The makeup bag is the take home gift only available if you book a MAC technique workshop class. You also get a voucher to redeem on makeup. The workshop costs $120 and $100 is redeemable on makeup to keep.
Have you heard about this brand? It's a low-priced,natural body wash botanical NZ brand called Skin & Tonic. It's at supermarkets now at $7.50. 
Mid-air action shot, at YMCA gymnastics for kids, we love it. Lovely instructors, nice equipment, small groups, and great for coordination and strength.
Megan Robinson 17th October 2016
Recommended