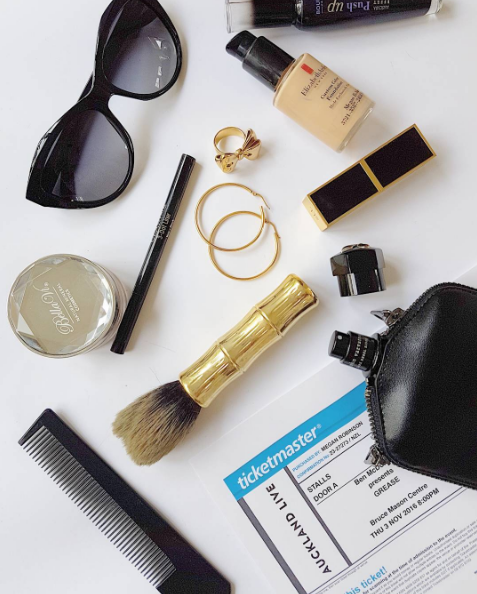 The Week On Thread: Episode 63
The Week On Thread: Episode 63 featuring highlights in photos of what I've been up to. In this latest WEEK ON THREAD column, I showcase some pics of what I've been doing in early November 2016 around Auckland. It's mostly a collection from my Instagram which you can follow over at www.instagram.com/threadnz to see daily updates and what's new.
At Diabetes NZ Fitbit event with bloggers and media: L-R Melissa Loses It, Melissa Jack of The Best Nest, Mel Rundle and myself. It was fascinating learning about the work Diabetes NZ do, and the campaign to get people moving, using well-known ambassadors including Art Green, and a relationship with Fitbit New Zealand. It was also interesting to learn about their diabetes-friendly meal options available to Pita Pit stores, and we enjoyed some healthy wraps for lunch.
I attended the launch of the Dick Frizzell-designed 'woodgrain print' glasses for Specsavers that support The Fred Hollows Foundation NZ with eye care for those living in poverty with cataracts in the Pacific Islands. Great news – in just six weeks, the limited edition glasses have sold out. Sales of each unisex frame gave a $25 donation to The Foundation's Pacific Outreach team. Contained within the kits is the intraocular lens, consumables such as bandages and anaesthetic, and pre and post-operative medications.  Nice work, Dick Frizzell and Specsavers!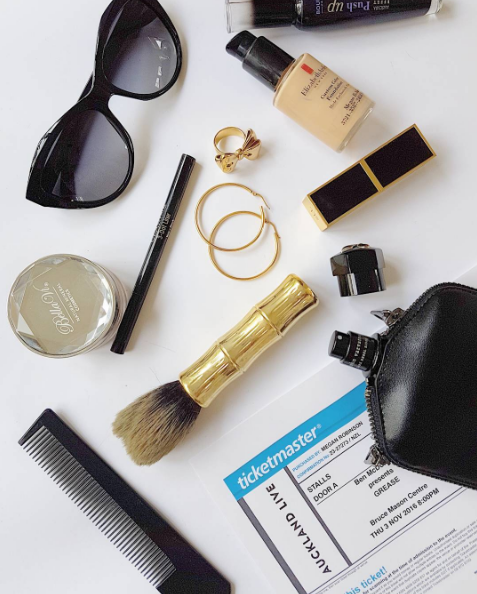 Getting ready for Grease the Musical, opening tonight at Bruce Mason Centre in Takapuna! We donned our skinny pants, wedge sandals, and leather jackets, to join Rydell High's senior class of 1959 and hear the classic numbers including You're The One That I Want, Grease Is The Word, Summer Nights, Hopelessly Devoted To You, Sandy (me!), Greased Lightnin' and many more. This local production plays an incredible 25 New Zealand cities from Auckland to Invercargill. Thanks to Auckland Live.
Pictured above: I'm at Grease the musical at Bruce Mason Centre, dressed as Sandy.
Crozier's Free Range Turkey was so healthy and amazingly delicious. The birds are free to forage for food such as grubs, bugs and grass seeds. Croziers do not dip their turkeys into a chlorine wash, they do not force feed grain to them, and they do not inject oil into their birds. In 1959, a 12 year old farm boy Philip Crozier took his savings of £5.00 and bought himself a pair of hen turkeys and a "gobbler" (male turkey) with the intention of breeding them. Today, Philip and his wife Judith run their own 80-acre turkey farm as a thriving family business. I would highly recommend Crozier's to anyone thinking of getting turkey and it's true what they say about happy, healthy birds – you can taste the difference.  You can buy them at Farro and other quality food outlets; see their website http://www.croziersturkeys.co.nz/products/where-to-buy/
Pictured above: I'm on the rainbow carpet at the New Zealand premiere of the Trolls movie. I loved this fun, colourful film and thought its strongest points were the music and the imaginative world they've created. It does have some scary bits, so I would take children ages 6 upwards. I sprayed my hair pink for this with the MAC Trolls hair colour spray can, and luckily it all came out afterwards in the wash.
On a sunny afternoon, I was delighted to received the gorgeous Clinique New Zealand marketing team at my door bearing goodies of award-winning boutique ice-cream from Duck Island and Makena and Rebecca with its gelato namesake in the beauty world: Clinique Happy fragrance in its latest incarnation; Gelato Body Cream.  This sweetly perfumed body moisturiser is the perfect gift or a treat for yourself! Clinique Happy Gelato Body Cream is on sale November 21st for $69 at Clinique counters.
Above: nothing in my house is safe since I got this label maker and have been sticking labels on anything that doesn't move. Now that they have released RIBBONS, I haven't stopped printing gift ribbons with the Brother machine, and basically putting them on everything.  The pTH105 retails for $60 at Warehouse Stationery and other stores; see http://www.brother.co.nz/ for where to buy.
The most incredible setting at a dinner for 72 guests surrounded by green fronds and branches, for the annual dinner and cocktail celebration 'Project Botanicals' by Bombay Sapphire. 
The cutest pic EVER with @thebubbalinokitchen and @arianaomipi at the Bombay Sapphire dinner at Eat My Lunch with Chef Michael Meredith. Photo by @stircreativenz Rebecca Zwitser.
Gin cocktail at @bombaysapphirenz #projectbotanicalsnz
Above: With my hairstylist, Sarah Ashley Morris, at Blaze salon Newmarket.
Megan Robinson
14th November 2016
Recommended