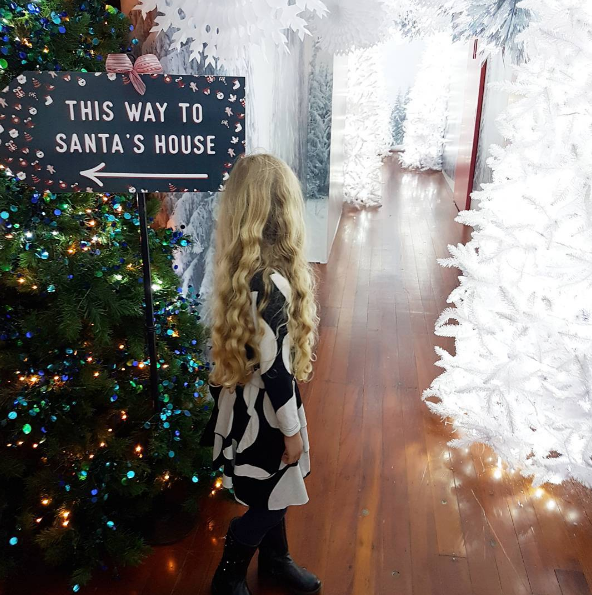 The Week On Thread: Episode 65
In this latest WEEK ON THREAD column, I showcase some pics of what I've been doing in late November 2016 around Auckland. It's mostly a collection from my Instagram which you can follow over at www.instagram.com/threadnz to see daily updates and what's new.
The Week On Thread: Episode 65
At Enchanted Forest at Smith and Caughey's. My daughter said "It's not the real Santa, but it was really fun pretending." Haha my child for sure. It was so beautifully done; you wait in a frosted white tree-lined corridor then see animated putt cabinet cases of elves building toys then enter a Santa room decked out tastefully in vintage toys and decor, and have photos taken. You then collect your printed photo in a cardboard frame at the counter downstairs with a decoration. A really nice momento and a charming experience, and since last year, you can pay a premium (I think $30 instead of $15) to book a time slot to avoid the queues which is money well-spent if you have impatient toddlers I dare say. 
Above: an 'Elfie' – ha ha that's a selfie with an elf – with the beautiful Christmas fairies at Smith and Caughey's Christmas Enchanted Forest. 
After going to the Enchanted Forest, we headed up Queen Street to Giapo icecream just up front the Civic theatre. Pictured above is the chocolate chip cookies ice-cream, which is dairy free as it's made from coconut cream and is delicious.
Happy 35th birthday to New Zealand clothing brand K+K, that's an awesome achievement. Sun hat by @kandkinsta and K+K birthday cupcakes by @petalgifts. With Bold Needle & Thread book by Rosemary McLeod.
Having a cheeky bubbles with Sophie at Smith and Caughey's for the New Zealand launch of Molton Brown! Such divine products and perfect for Christmas gifts! My dress by Hailwood, lipstick MAC Heroine. Sophie wears Kenzo x HM.
Beauty media at the New Zealand opening of Molton Brown at Smith and Caughey's.
Molton Brown Fabled Juniper Berries & Lapp Pine is the perfect Christmas fragrance!
With the fabulously talented actresses Caroline Everitt-Gardner and Alex Foster at the Albion for opening night of the Shakespeare Revue.
This week a cool new dining hub opened on K Road called Food Workshop with the historic facade revealing eateries including Moustache cookies; El Sizzling Lomito; Popped Popcorn; and Lovebucket, a gin cocktail bar from the owners of Hallertau beer.
At Snowplanet to meet Santa in a castle on real snow! #santaatsnowplanet I was hosted thanks to Snowplanet. The price for Santa castle and photo and tubing is $24 for 1 adult and child and goes up for extra people. Really good value for a "cool" experience.
Action tubing shot of my daughter and I, photo by Melissa @thebestnest at Snowplanet.
Absolutely loved my first time ever at @farmersnz #farmerssantaparade. Thanks for having us at the event, Farmers. So many creative and eye-popping floats, and the children had a fantastic time. 
Megan Robinson
28th November 2016
Recommended