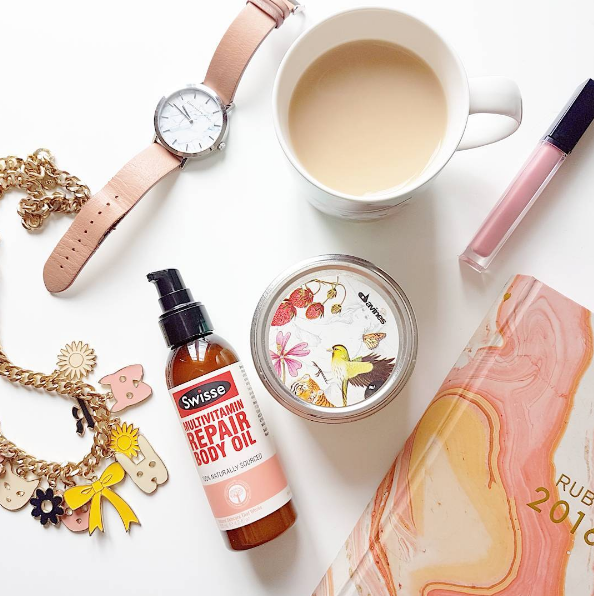 The Week On Thread: Episode 66
In this latest WEEK ON THREAD column, I showcase some pics of what I've been doing in early December 2016 around Auckland. It's mostly a collection from my Instagram which you can follow over at www.instagram.com/threadnz to see daily updates and what's new
The Week On Thread: Episode 66 
Morning routine…I will be getting more of this Swisse Multivitamin Repair Body Oil as I love it so much with its thick consistency that goes on dry and doesn't run. Davines Authenticity Replenishing Butter I use as a nourishing hand cream. Estee Lauder lip gloss. Karen Walker critters necklace, Christian Paul watch, RUBY journal.
Pictured above: Five Star Slippers in orange suede slip on for summer by Minnie Cooper; the perfect Christmas gift. You can get these Summer Slides, as well as other styles including a gorgeous ballet slipper, at Minnie Cooper and online at www.fivestarslippers.nz 
I went along to the advance screening of the HOT HOT new movie that's winning awards at the film festivals; LA LA LAND, starring Ryan Gosling and Emma Stone.
Life troll, I mean, goal, unlocked! I've been made into a troll. Meet "Megan Troll" thanks to 20th Century Fox for the beautiful artwork of #trollsmovie book, my children will also love it!
SO COOL: Stolen Girlfriend's Club zip bag and two Redken frizz dismiss shampoo and conditioner only $58 at Redken salons. Marc Moore says, "be proud of your bag next time you get searched at Customs." Ha ha. This is a sweet price for this set.
Yippee- years of saying "That wine has my name on it", have literally come true- Stoneleigh Lighter have sent me a "Megan" wine pack with gorgeous floral Havaianas and Lindi Kingi bracelets!
These are a good idea in a hurry; Goodness Kitchen Smoothie Base pouches.
Has anyone tried Thursday Plantation? They've sent me some natural products to try that look really interesting especially the aluminum-free deodorant, and a tea tree antiseptic spray all made from Australian tea tree oils.
Cotton On is expanding their empire into homewares! This helium confetti balloon has arrived with a denim tote full of Cotton On homewares called CO:HOME. I'm about to open them and take a peek.

Cotton On has developed a new line, taking fashion into your home, with a range of homewares called CO: HOME. Pictured: fig & red berry candle $20, picture frame $15, vase $15, stainless steel rose gold cheese knives $30, stainless steel matte rose gold salad servers $40. Great gift ideas.
At Sip Kitchen for blueberry season launch high tea.
Having my brows done at Benefit Newmarket by Benebabe Kayleigh.
This takes me back to the late Eighties…zinc sticks. My kids love them. Available by Cancer Society NZ at pharmacies. 
At the Stuff VIP marquee for noodle night markets party tonight. Alex Perry eyewear by Specsavers, bag by MIMCO. 
Izzy and Rosie of Rose Tinted Flowers at Auckland Fair in Shed 10 today.
My gorgeous media goody bag from today's @AucklandFair down at Shed 10 on the waterfront. Full of creative art, design, and handcrafts, they hold it twice a year, and the Christmas market is great for gifts.
Green smoothie for breakfast and some top quality health products by Auckland based company, Lifestream. The multi advanced is a complete blend of concentrated nutrition and heaven knows that's not in my diet otherwise. Vitamin C as you know is awesome for immunity, but it also reduces stress, as does magnesium which I think everyone could benefit from this time of year.
On my nails: essie in Sittin' Pretty.
Megan Robinson
5th December 2016
Recommended