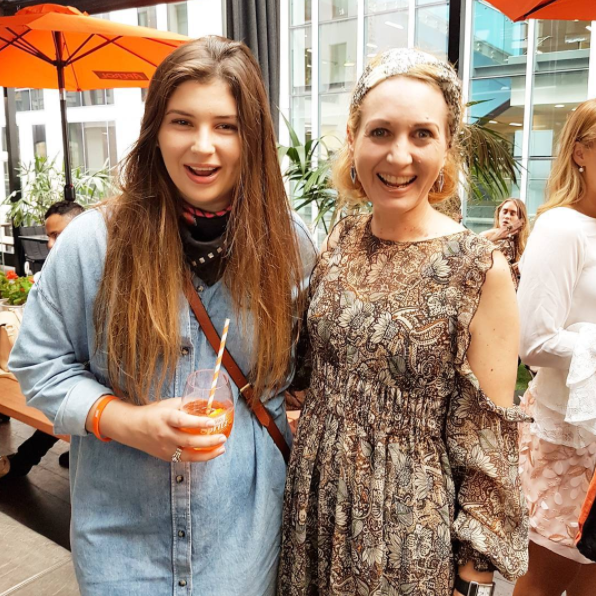 The Week On Thread: Episode 72
In this latest THE WEEK ON THREAD column of 2017, I showcase some pics of what I've been doing in early February 2017 around Auckland. It's mostly a collection from my Instagram which you can follow over at www.instagram.com/threadnz to see daily updates and what's new. Pictured above: with the fabulous Jamie Curry @jaamiecurry at OSTRO. 
The Week On Thread: Episode 72
At Aperol garden party at OSTRO tonight.
Walking on the wild side, in animal print; genuine cowhide leather handmade sandals by @kjacquessttropez
I'd wear all these retro Butterick swimsuits. Pattern was my mother's, 1986.
The sweet sweet tastes of summer…rose wine by Te Pa Marlborough, OPI Hello Kitty, VOGUE ON Alexander McQueen, Karen Murrell in True Love, Essie in Berried Treasures, swimsuit Lola by Rachel Hunter.
Mmmm…delicious chocolate shades! Mineral bronzer by Nude By Nature, color sensation lipsticks by Maybelline, lipstick by Mineralogie, nailpolish by Victoria's Secret, Essie, and Bobbi Brown.
Pretty in pink: cupcakes and shoes at today's press day for Mi Piaci.
Shoe heaven. This season at Mi Piaci, with metallics, Oxblood, texture and interesting buckles just some of the key trends.
Ooh a lovely gift of a book from @20thcenturyfoxnz, of the bestseller Hidden Figures, which inspired the hit film that you must see in cinemas now. I absolutely loved it and can't wait to read the book.
Excited to see the latest Graham Norton's Own Rose 'Pink By Design' from the colab between Graham Norton and Invivo @invivowines of New Zealand. What a stylish and delish combo.
Currently relaxing with a watermelon ice, and flowers handpicked from my cousin's garden. Have a great long weekend everyone! Looks like good weather.
Elves welcoming us to the show, at @whoastudios! There's a live family show in a giant tree trunk, and a cafe and a crocheted playground area which I'll show you after the performance. Thank you Whoa Studios for hosting our family. LOVED it, best kids show we've seen; top quality cast and show.
Having a whoa time out at @whoastudios Henderson on the playground! There's nothing like it in the entire country. I definitely recommend it to all!
Viewing the world through rose tinted glasses, for this year's New Zealand Rose Day #nzroseday
Megan Robinson
Items gifted for photography/review.
7th February 2017
Recommended