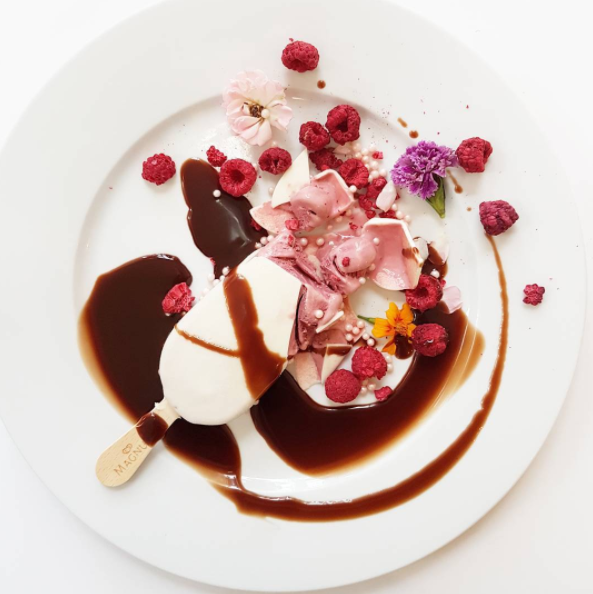 The Week On Thread: Episode 74
In this fourth THE WEEK ON THREAD column of 2017, I showcase some pics of what I've been doing in mid – late February 2017 around Auckland. It's mostly a collection from my Instagram which you can follow over at www.instagram.com/threadnz to see daily updates and what's new. Pictured above: My Magnum red velvet dessert I made with the box of toppings and chocolate sauce I was sent on Valentine's this week.
The Week On Thread: Episode 74
At Chuffed Cafe for a beauty editor brunch with Goodness Skincare, seeing their gorgeous new chia seed products: a SPF day cream, makeup removing balm, eye cream, and be cool mist toner.
Black lace Lonely lingerie and Tom Ford perfume, Black Orchid.
In conversation with Danny Boyle Director of Trainspotting with Simon Dallow at the premiere of Trainspotting 2.
On my way to Social Media Club Auckland (#smcakl) event on social media influencers including Shaaanxo. Shoes by Dune London.
A surprise delivery of a beautiful scarf from local fashion label, Madly Sweetly by Jolanta of Loobie's Story. @madlysweetly has their AW17 collection arriving now.
Gorgeous homewares and bedding at today's media showcase of the new season at Citta. Did you know it's pronounced cheetah? Fun fact!
In Blaze for a new colour today! Enjoying my berry crumble tea, and reading Frankie magazine as always. Thankyou for having me as your guest.
New blonde hair thanks to Blaze using Redken Colour Fusion and Redken Conditioning Treatment, now off to Next Gen gym.
The new Hugh Jackman shirtless looking intense yet caring and fatherly movie is coming and I cannot wait for the new Marvel film, LOGAN.
Megan Robinson
21st February 2017
Recommended