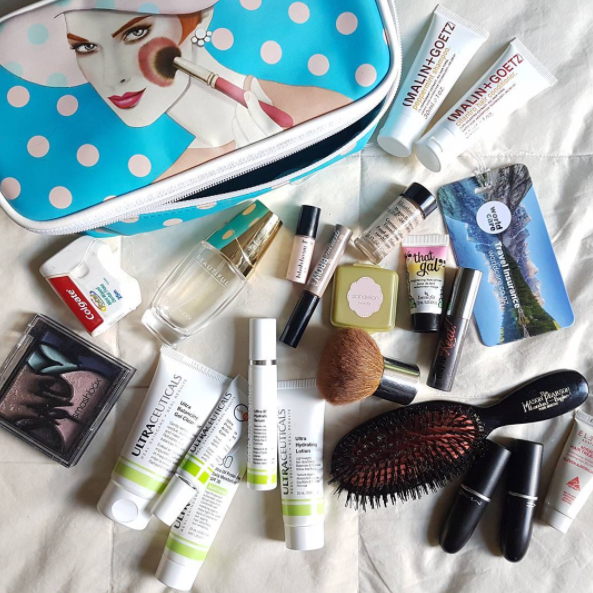 The Week On Thread: Episode 75
In this fifth THE WEEK ON THREAD column of 2017, I showcase some pics of what I've been doing in late February 2017 around Auckland. It's mostly a collection from my Instagram which you can follow over at www.instagram.com/threadnz to see daily updates and what's new. Pictured above: My obsession with collecting tiny samples is paying off, as I'm packing my toiletries for Japan.
The Week On Thread: Episode 75
Free coffee until noon today and loads of opening specials at brand new Orakei Farro! @farrofresh and coffee by @kokakoorganic Flowers by Boudica flowers.
I'm in Equipoise Spa Ponsonby for an Ultraceuticals RVR 90 day skincare programme – I can't wait to get better skin. I had a consultation and before photos with the lovely Leeanne, then a facial, and was prescribed the products and a daily plan for 90 days over the next three months. Watch this space!
This takes the cactus for most succulent invite of the week! Ill be planting myself at the Swisse Oasis at Auckland Cup Week on the Champagne Lawn (what a fabulous sounding lawn tbh), thanks to @swissenz.
At the new season AW17 showing today for We'ar Clothing @wearyoga, which is not only stylish and gorgeous, but is all sustainable and ethically-produced, for men and women.
Oasis Beauty noticed I had the old BB Cream in my Thread Beauty Awards, and kindly send me a new one! It looks great thankyou @oasisbeautynz
Clinique held a healthy breakfast at Orphan's Kitchen in Ponsonby for beauty editors, with all the ingredients for a fresh pressed juice with vitamin C, launching their brand new Fresh Pressed 7-day system with pure Vitamin C to brighten, even, and retexturise skin.
New lingerie, thanks to Rose & Thorne.
Citta pillowcase and mugs from new season collection, Elevation, inspired by the colours of Bolivia.
This is where I've been hanging out due to my washing machine dying but the new app with the excellent pun name, Laundromap, has rescued me with a voucher to dryclean my dresses for Auckland Cup Day, woohoo! I've downloaded the app and they come to your house and deliver it. Unlike the Levi's commercial, Nick Kamen has NOT been stripping off in the local laundromat, so I'm giving the app a go instead!
Got my hair did for my Japan trip tomorrow, at @ponyprofessionnel today with the amazing Marie. My embroidered maxi wrap dress by fabulous local brand @tuesdaylabel
The brand new release of lip pencils from Karen Murrell is on everybody's lips! Smooth and blendable with a brush on one end, the natural pencils are $27 available 1st March.
Megan Robinson
28 February 2017
Recommended