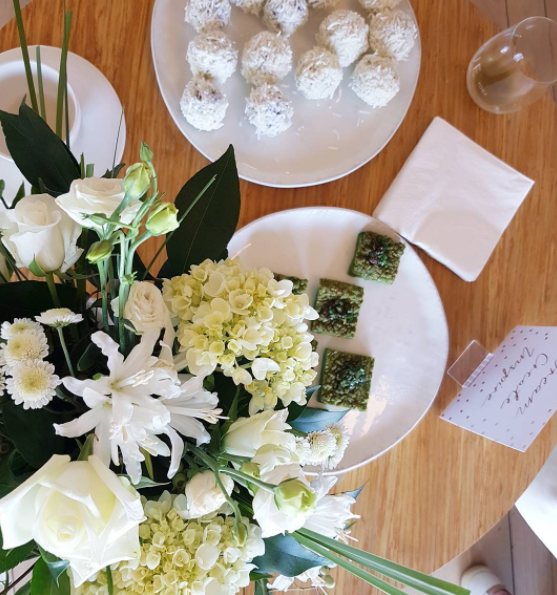 The Week On Thread: Episode 76
In this sixth THE WEEK ON THREAD Episode 76 column of 2017, I showcase some pics of what I've been doing in early March 2017 around Auckland. It's mostly a collection from my Instagram which you can follow over at www.instagram.com/threadnz to see daily updates and what's new. For my highlights of my trip 1st – 9th March to Japan, click here.
The Week On Thread: Episode 76
Treated by UberEATS to a delicious dinner on my first night home, from & Sushi, Miann, Miss Moonshines, and Shaka Bowl.
Lovely relaxing break at @ponyprofessionnel today having a blowdry over a flat white. I treated myself to this handbag in Japan.
Catching up with Zoe and Morgan – the brother and sister duo behind amazing jewellery brand @zoeandmorgan – at their party in their zoe and morgan jewellery store over a ghmummnz at City Works Depot tonight.
Stepping into London style in my new heels, thanks to Dune London! These are a nude studded and black snake print leather heel called Cliopatra $220 at Dune London now in their AW17 collection.
At Tom Tom bar for the New Zealand launch of Chinese tech brand OPPO mobile into NZ. They're super hi tech but priced at $349 to $699 and are the biggest seller in China and currently third in the Australian market behind Samsung and iPhone.
White roses and goody bags at the amazing La Prairie event at Soul Bar.
With Erin Berryman and Elise Wilson at Soul for la Prairie.
What I wore today. At Farmers AW17 media showcase. Pic thanks to @thesleekavenue. Dress by BCBGMaxAzria, shoes from MiPiaci, sunglasses AlexPerry for Specsavers, clutch SeedHeritage, necklace by Miglio jewellery.
At @farmersnz AW17 fashion showcase this week, with @thesleekavenue and @sammysalsastyle in front of the giant Farmers letters! We viewed the upcoming collections arriving into Farmers stores nationwide and heard from them on the key trends.
With Dani Robinson and Crystal Chenery at the Good For Wholefoods store launch party. The store sells food in your own jars, to reduce packaging, and they plant a tree for every purchase made.
Good For wholefoods store is now open in Ponsonby, so you can fill your own jars and reduce packaging.
Champagne GHMUMM and oysters, at Harbourside Mumm ce;ebration with Didier from France. 
I missed the Uptown Bounce event while I was in Japan, but triumph have kindly sent me their brand new Triaction sports bra so I can get moving, in style.
Off to The Kitchen by Mr Tom's for the bistro dinner menu with the husband, and I love that their wall has my initials – MR – on it! Dress by @tuesdaylabel www.tuesdaylabel.com
Our favourite course was dessert! A lovely evening with delicious food, excellent wine recommendations, and also a really cool interior, at The Kitchen by Mr Tom's in Ponsonby. The bistro set menu is $60 for 3 courses.
What I wore today: Little white dress, for @elizabetharden White Tea. 
A white dress code for Elizabeth Arden White Tea.
At the Benefit Cosmetics VIP lounge at Silo Park open air cinemas for dinner, drinks and Thelma and Louise!
Gorgeous goody bag backpack from @benefitnz with Double The Lip two-tone lipsticks and yummy Rekorderlig cider from the Silo Park open air cinemas screening!
Things in neutrals I'm enjoying: Instant Light by Clarins under my foundation. Diary by Office Max. Yesterday I popped into Postie+ for school pants and got myself this black slip and leopard bra top. I got this Brazilian Colcci label dress secondhand at St Vinnies opshop yesterday. Linen bedding by Adairs.
SO EXCITED that top trans fashion model Andreja Pejic is coming for the @smithandcaugheys winter fashion show this month in Auckland. I'll be heading along to the show hosted by the fabulous Antonia Pebble with a champagne reception. I can't wait!
Megan Robinson
20th March 2017
Recommended