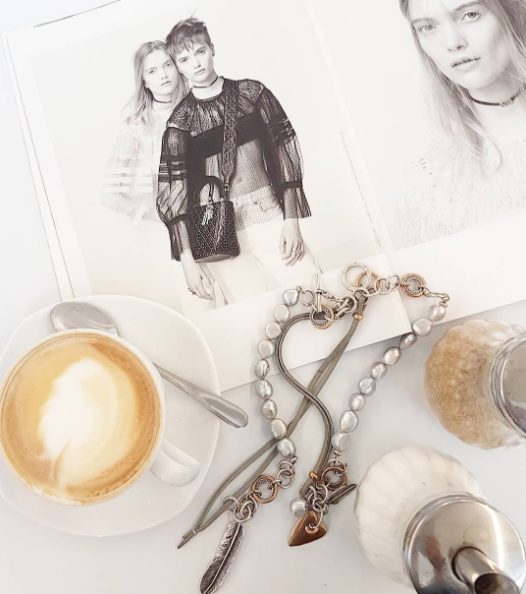 THE WEEK ON THREAD Episode 77
In this seventh THE WEEK ON THREAD Episode 77 column of 2017, I showcase some pics of what I've been doing for the last couple of weeks, in late March and early April around Auckland. It's mostly a collection from my Instagram which you can follow over at www.instagram.com/threadnz to see daily updates and what's new. For my highlights of my trip 23 – 25th March to iD Dunedin Fashion Week, click here.
THE WEEK ON THREAD Episode 77
My new Fitbit Alta HR with @thebestnest @trudifresh @mrsmlissy
Art Green, Fitbit Ambassador, at the Auckland launch of Fitbit Alta HR, and I being Wonder Woman with our Fitbit Alta HR bangles. I'm not arm wrestling him! 
In the beautiful spa rooms at Equipoise Spa about to have my Ultraceuticals Vitamin A facial as part of my RVR90 skin programme, with the lovely Leeanne.
This week a major highlight for me was supermodel and top trans fashion superstar Andreja Pejic was in Auckland for the @smithandcaugheys winter fashion show. She walked in the show hosted by the fabulous Antonia Pebble with a conversation at the champagne reception afterwards.
Meeting the fantastic @andrejapejic today. So eloquent and inspiring on her journey as a trans woman. Aptly, today is Trans Day of Visibility.
Doris de Pont and Trelise Cooper at the Smith and Caugheys fashion walk on level 6 and there's a talk tomorrow Saturday 1st April at 1pm here at Smith and Caughey's free to the public.
With one of my all time favourite designers, Karen Walker.
I was lucky to be hosted at Spencer on Byron hotel in Takapuna and enjoyed a delicious meal at thei restaurant, Thyme. Read about my experience at Spencer on Byron here.
A very cool idea from Barnardos- a backpack to colour in, with the helpline '0800 What's Up' for kids to phone to talk. Available for $9.99 at Office Max, with $5 going direct to the children's charity. Also at Office Max are these fun Marvel stationery products. I did their online quiz to work out my Work Personality and got the colourful desk result so I chose these.
With ridiculously gorgeous new mum Carly Flynn at today's Procter & Gamble 'open home' showcase in an amazing home. We had the chance to hear about them in a talk with very charming French accent, and then walk around the stunning home viewing the P&G products that are used in every room, such as the kitchen, bathroom, shower, bedroom, and lounge. It was surprising how many you use everyday.
New interior collections at Cotton On Home. A beautiful muted pastel palette at Cotton On Home media showcase today with new additions in artwork, lighting, and homewares. Check it out instore.
I'm with the models! At Zambesi x Huawei P10 #huaweiP10nz party. Models wear bespoke dresses by Zambesi. I'm wearing dress by Kesho, Halter by Zambesi, jacket by Trelise Cooper, bag Marc by Marc Jacobs, shoes Dune London.
I got to view the new H&M Trend collection at H&M head office today. Trend is their premium line in quality fabrics and limited edition runs, that complements their affordable Basics lines. Key looks included lots of ruffles, and stunning prints, and the strong use of recycled and sustainable fabrics.
I've had a fabulous Saturday at The Local Food Kitchen Matakana meeting the artisan producers at Matakana Farmers Market and then cooking a meal in @thelocalfoodkitchen, in which you can book a cooking experience in a group or by yourself. Read about my day at The Local Food Kitchen here.
Megan Robinson
8th April 2017
Recommended