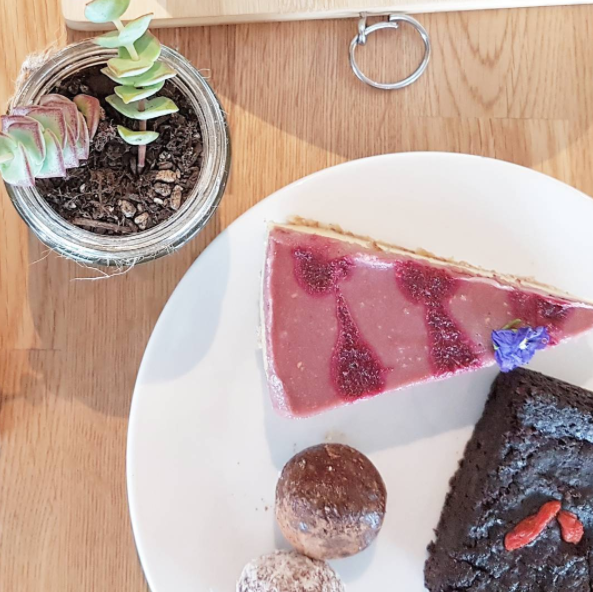 THE WEEK ON THREAD Episode 78
In THE WEEK ON THREAD Episode 78, this eighth column of 2017, I showcase some pics of what I've been doing for the last couple of weeks, in mid April around Auckland. It's mostly a collection from my Instagram which you can follow over at www.instagram.com/threadnz to see daily updates and what's new.
It's also Easter weekend and school holidays, so this column has a LOT of food in it!
Intro image of  healthy raw food desserts and cheesecake by @streetorganics_nz 
THE WEEK ON THREAD Episode 78
After a busy day, dinner of Green Goodness salad and stuffed pork with kumara gratin was kindly delivered by @villagekitchen_nz. Just add wine.
Post-peel face after a Vitamin A facial today. Halfway through my 90 day Ultraceuticals skincare programme at Equipoise Spa. No makeup, except lipstick. I'm using no skincare but Ultraceuticals for 3 months to see the before and after results. NB I'm 44, never had Botox or injectables. Top by Trelise Cooper, necklace is Shh by Sadie. Lipstick is Estee Lauder in Commanding.
I should be so lucky, lucky lucky! Kylie Monique has done a line with Specsavers! I am the biggest Kylie fan. Also how does she look about 27 still!? Lots of cute arm filigree detailing on the glasses and quite retro styles in smoky ombre; very chic.
At Benefit Cosmetics' beautiful Ponsonby store with Vanessa Rehm and Hannah Rogers  tonight trying out all the pretty things!
Photo booth pics – wearing my cap – and baby Groot toy from tonight's screening of Guardians of the Galaxy vol. 2.
Disney Moana is out on DVD and CD today! I'm going to be building my own Kakamora with this coconut kit that Disney sent over to my children so that'll be a perfect school holidays craft!
The sun's out after the storm, and just as well it's picnic weather, as Cuisine Magazine has sent me a hamper and picnic rug filled with the winners of their Artisan Awards 2017.
With the lovely Trudi Bennett of Wardrobe Flair at the Country Road VIP party tonight.
Great news for this weather…and Easter holidays so you don't have to drag the children out to the shops (my pet peeve); Farro now have online shopping! Yay! Delivery nationwide for dry goods, and chilled goods Auckland wide. They also do Farro Food Kits and have an Easter Food Kit instore now. Easy!
Sacred Hill seems apt for Easter doesn't it. @sacredhillwines hot cross buns top right by Wild Wheat; bottom left by Olaf's artisan bakery.
My brand new Allbirds grey loungers! I'm wearing them now; so comfortable. Made from New Zealand merino wool.
Allbirds Designer Jamie talking me through the new merino Lounger at their launch event today! It was such a pleasure to meet him and hear about their story and the design process of Allbirds. 
The children are painting my Allbirds shoebox. 
A free lolly shop – the dream of childhood- at the opening party tonight of live show '13 Storey Treehouse' by Auckland Live. Who's read the books? My children loved the show and said "that was awesome."
The famous Express Menu is back at Cibo! They do a set price lunch ($49 for 3 courses) within 45 minutes for those in a hurry or you can relax and take longer to enjoy it! I headed in today as their guest with the husband and had a gorgeous meal with Taittinger.
The hapuku and the lamb, on the new Cibo winter seasonal Express Menu.
Beauty media at L'Occitane perfume Terre de Lumiere event in the historic Quay Building Britomart.
Some of the gorgeous @loccitane team at today's beauty media launch of their fragrance, Terre de Lumiere.
Megan Robinson
22nd April 2017
Recommended