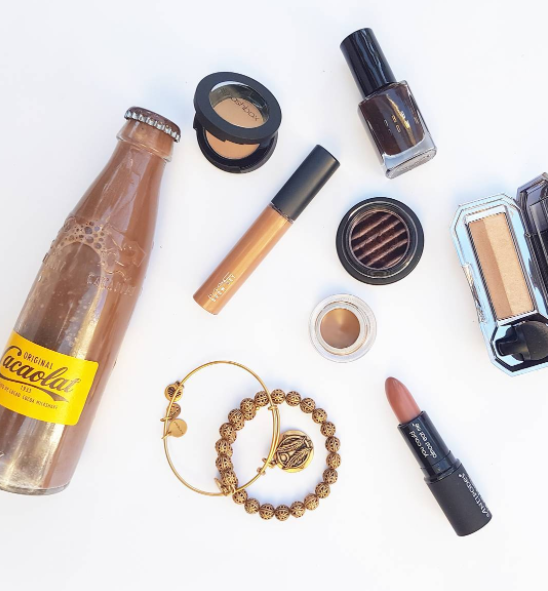 THE WEEK ON THREAD Episode 79
In THE WEEK ON THREAD Episode 79, this ninth column of 2017, I showcase some pics of what I've been doing for the last week in late April around Auckland. It's mostly a collection from my Instagram which you can follow over at www. .com/threadnz to see daily updates and what's new.
It's also school holidays, so this column has a LOT of food in it!
Intro image; Hot chocolate: Alex and Ani jewellery; MAC Brow Set, MAC Spellbinder shadow, MAC Fluidline Brow Gelcreme, Antipodes lipstick in Queenstown Hot Chocolate, Benefit duo eyeshadow blender in Beyond Nude, Bobbi Brown nailpolish in Chocolate, and Smashbox Photo Op Eyeshadow in Nude.
Beauty never sleeps! After hours facial, at Equipoise Spa with Ultraceuticals #rvr90
Stocked up on some of my favourite Ultraceuticals skincare at Equipoise Spa- the cleansing Ultra B Micellar Solution, and Ultra C Firming Eye Cream. I'm loving the results I'm seeing on my 3 month RVR90 programme as a beauty blogger trial. I'll be sharing my before and after photos so you can see my results!
LUSH Mother's Day gifts! Limited edition collection available 27th April to 14th May.
Lest We Forget. #anzac #ANZACday
Journal by Banter from @warehousestationery, candle by @thearomatherapycompany, cup by Acme, lipstick by @antipodesskincare, cookies I baked from @cliniquenz Blend it Yourself press pack.
Tahi…Rua. Akarua means "two vines" so when @akaruawines launched their second Pinot Noir label, they named it "RUA"; te reo for two. Luckily for me, they've sent me two bottles to enjoy.
Macpac held its fashion press day today with plenty of stylish and warm outdoors wear for men, women, and children, plus a new fashion merino line.
I went nuts (and raisins) over the Make Your Own Scroggin bar at Macpac fashion press day today!
Off to Joseph and the Technicolor Dreamcoat with @aucklandlive My dress by @trelisecooper.
Filling our gorgeous birthday piñata crocodile from @thewarehousenz!
Mummy daughter movie date to Beauty and the Beast @disneyaunz #beautyandthebeast
Megan Robinson
30th April 2017
Recommended