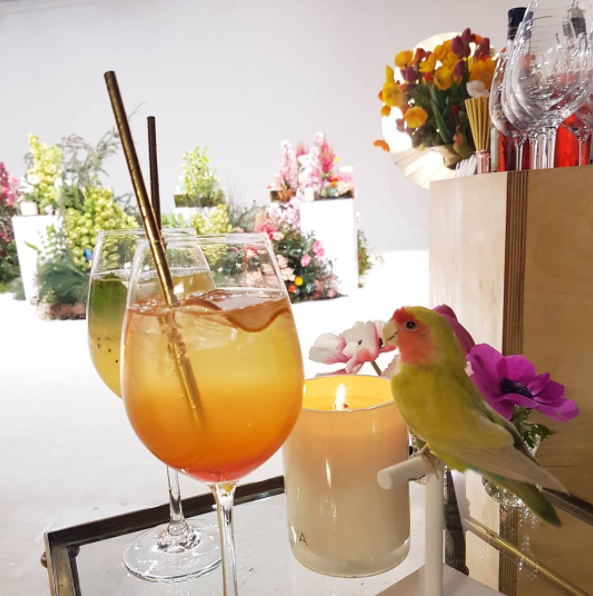 The Week On Thread Episode 91
The Week On Thread Episode 91, this twenty first column of 2017, I showcase some pics of highlights in photos of what I've been doing for the past week in September around Auckland. It's the highlights from my Instagram, which you can follow over at www.instagram.com/threadnz to see daily updates and what's new.
Today I headed in to the beautiful new Asics store on Shortland Street and had a Shoe Fit treadmill analysis with the helpful John and chose these amazing technical running shoes. I also love the orange and grey colourway as well as the fact they have carbon fibre and very hi tech impact absorption for running.
Wearing MAC lipstick in Studded Kiss and new Kenzo eyewear from SmartBuyGlasses. Pleated top by Issey Miyake, flower top by Trelise Cooper.
Made this for dinner from the woop dinner box I was gifted on Sunday; tarragon chicken and salad with Sacred Hill wine. Very nice.
Cocktails at Ecoya Christmas Launch. Oh my goodness the flowers at the Ecoya Christmas Launch today- you should've smelt it in there.
At Ecoya media showcase today with the perfect combination of Christmas, candles, cake, coffee, and cocktails! I'm wearing scarf by Auckland designer Sophie at@generalcollective, ruffle top by Mossman, skirt Issey Miyake, heels Kathryn Wilson. Flowers all by Blush Flowers.
Action shot of our table at What Women Want at Langham Auckland. #whatwomenwant2017
At charity lunch 'What Women Want' at Langham Auckland today with Eye Magazine and Continental Cars supporting NZ Heart Foundation. I'm wearing kagi jewellery coral necklace and dress by Turet TK Store. Simone Anderson wears dress by Showpo.
Some of my faves in the awesome goody bag at What Women Want charity lunch yesterday at Langham Auckland (now Cordis Hotel) with Continental Cars and Eye Magazine supporting Heart Foundation. It's cool to try out new products I haven't seen before, as well as old favourites. Pictured here L-R from top: NZ Sunco Pure Shade, oi Organic Initiative feminine hygiene made from organic cotton, Pana Chocolate, Sally Hansen Manicure, Gift Bird Shop amethyst crystal, Havana Coffee Works, Comvita Olive Leaf Extract, GO Healthy NZ, Chilly's Bottle, L'Occitane bag, Manuka Masters soap, Green & Co Spring Water, Redcurrent angora socks, Cienna Boutique soy candle.
Weekend vibes. Grey crosses sheet set by Ezibuy. Coat Karen Walker, suitcases vintage. Cups and cacti, Citta.
At High Tea at the NZ premiere of Victoria and Abdul movie with @paramountnz
Megan Robinson
10th September 2017
Recommended