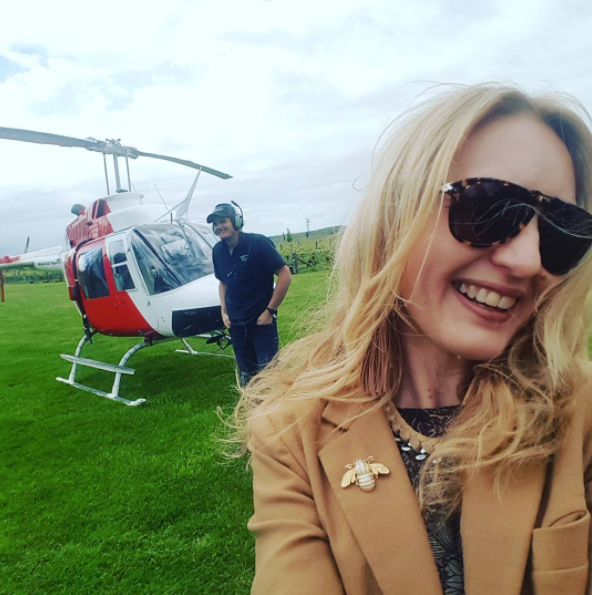 The Week On Thread Episode 95
In The Week On Thread Episode 95, this twenty fifth column of 2017, I showcase some pics of highlights in photos of what I've been doing for the past week in mid October 2017 around Auckland. It's the highlights from my Instagram, which you can follow over at www.instagram.com/threadnz to see daily updates and what's new.
At Blaze salon Newmarket with Stylist Keeley Swinton.
At the cookbook launch for chef Michael Meredith of Eat My Lunch at their headquarters today enjoying a divine 3 course meal and hearing about how @eatmylunch.nz is feeding thousands of Kiwi kids! Great work Lisa and Michael of Eat My Lunch, and I think everyone should buy Food For Good! Available from bookstores, published by @allenandunwinnz
Here is the chef himself, in my opinion the taika waititi of food and New Zealand's best-looking (equal with Josh Emmet) chef, Michael Meredith of Eat My Lunch at today's launch of the brand new cookbook Food For Good.
Breaking news! Matilda Rice has a fabulous and fun book, The Lazy Girl's Guide to Living a Beautiful Life, out in November from @allenandunwinnz with her personal tips on living well including life hacks, recipes, exercises, beauty and styling tips. It'd be a perfect Christmas gift. I'm currently enjoying my pre- release copy. RRP $39.99 (Art Green not included).
Artist @drorbenshetrit at his stunning sculpture Under/standing at @BrancottEstate
Read about it and see my photos at Brancott Estate here.
Making Gratitude Journals, at Jayayoga Studio Mindful Kids class. Cute answers included I'm grateful for fettuccine, I'm grateful for the smell of my mummy, and one kid who said I'm grateful for the smell of new money haha. @jayayoganz at 50 Hinemoa Street Birkenhead.
Lunch for my friend Juls' birthday, at Depot SKYCITY. Pictured: Depot's lovely Grace Matua.
I love this photo… me captured having a laugh with the beautiful girls wearing Juliette Hogan AW18 at tonight's AUDI x Juliette Hogan party.
Model in Juliette Hogan, lipstick queen Karen Murrell and her friend Shelley, Olivia and Juliette Hogan workroom team.
Model installation on AW18 at Juliette Hogan Audi launch.
Pretty drinks! At Juliette Hogan x Audi.
Long weekend. Hands up if you're excited. Model wears Juliette Hogan.
Megan Robinson
23rd October 2017
All photography by Megan Robinson
Recommended