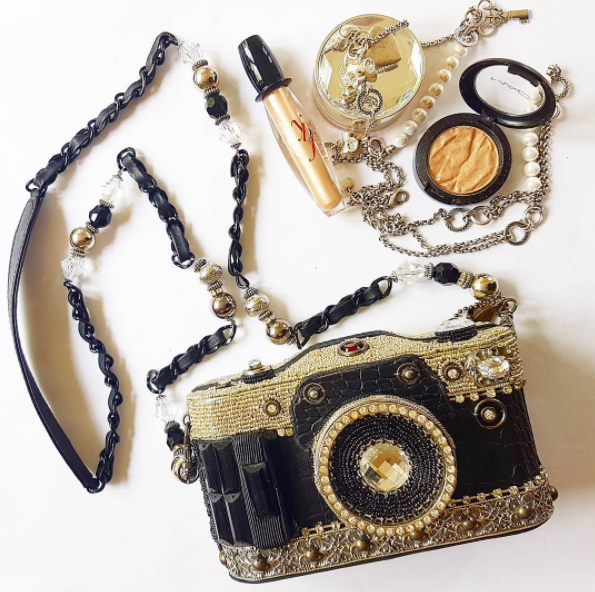 The Week On Thread Episode 96
In The Week On Thread Episode 96, this twenty sixth column of 2017, I showcase some pics of highlights in photos of what I've been doing for the past week in late October 2017 around Auckland. It's the highlights from my Instagram, which you can follow over at www.instagram.com/threadnz to see daily updates and what's new.
Intro image: Made my day- a surprise delivery of this absolutely stunning beaded camera handbag by Mary Frances. The handbag is from @TVSN and is extremely limited edition and comes with a numbered certificate of authenticity. I can't wait to wear it- it's so perfect for a fashion blogger! Available at www.tvsn.co.nz ♡♡♡
Outfit post: what I wore at @depoteatery at @skycityakl is live on threadnz here.
Just a glimpse of all the amazingness by local artists and handcrafters at the General Collective Christmas markets on Sunday 5th Nov at Auckland Showgrounds. See @generalcollective for more info. @littlebotanics @stuffmadefromwood @nichola.co.nz @moonlightingnz @makegivelive @ottiandolli @mootpointnz @libbydid @nordnz @the_rolling_pin_auckland @henrywilliamsartist @no3_ltd @coolkiwikids @the_art_room_ltd @artfulelementsnz @yogibjewelry @magnoliakitchen @longandshortagency
Ethical sustainable fashion by WEAR Clothing includes this cotton Dusky Pink scarf wrap for summer instore at @wearyoga
New do at @blaze_hair
Stunning hair by Mana Dave of Blaze, Gold Winner of NZ Color Vision Wella Trendvision Awards. Congratulations Mana! ♡
Coffee with my lovely friend Anna at Woodside Cafe today:) Wearing #fitbitionic, shirt by Superette.
Tonight's makeup: off to Thor, lots of breastplate jewellery and sequins a la Queen of Asgard.
At THOR Ragnorok and #apocalypsestevehansen with gorgeous Aki of @thesleekavenue
Such an amazing day out at Gibbs Farm sculpture park with General Collective artists. Mind blowing giant sculptures on the Kaipara harbour with live giraffes you can feed leaves to, zebra, bison, goats, llama and more. Free public entry, Thursday only, bookings well in advance required. Private property of a multi millionaire with an extremely grand vision.
Always the highlight of my day…eating! Yummy gourmet picnic boxes by local company @picnicbox at today's General Collective artists trip to Gibbs Farm sculpture park.
Meeting a friendly ostrich at Gibbs Farm today.
Went to the doctors as I've been sick for two weeks and I needed antibiotics for the cough so I did retail therapy to cheer myself up and bought Evie Kemp cushions and a silk scarf at an opshop and some earrings at lovisa.
Megan Robinson
31st October 2017
All photography by Megan Robinson
Recommended