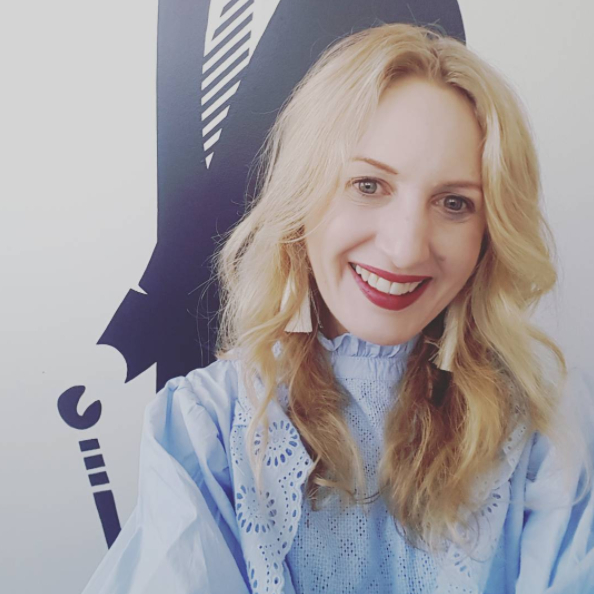 The year's highlights: Best events of 2017
How was your year? I'm trying to focus on looking forward, but it's also valuable to review the past and it's been a busy year with plenty of highlights – and lowlights.
Work-wise, I'm very lucky to be able to attend some amazing shows and events that are extremely creative and often showcase the best in design, music, and style. Here are some of my picks of highlights of the top events – by no means exhaustive – and some personal highlights of 2017 for a snapshot of some of my favourite fashion and beauty industry events in the past wee while.
JANUARY
The year usually eases in slowly with fashion and beauty events, as fashion is all on sale in stores, and product launches happen a bit later on. MAC kicked the year off well with a beauty media launch event and demonstration by the incredibly talented MAC artist Kabuki, pictured above with a seated model, held in the MAC Britomart store.
FEBRUARY
Bobux Kids hosted blogger families at Extreme Edge rock climbing to launch their new Kids Plus shoes range for primary school children.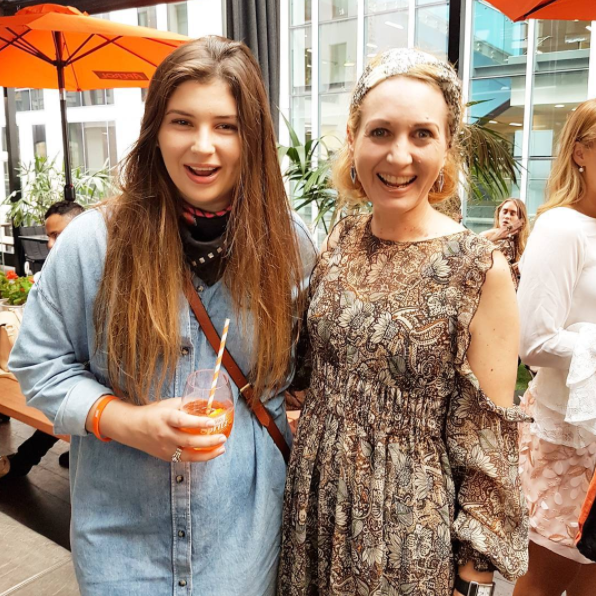 At Ostro with Jamie Curry for the Aperol Spritz party.
Danny Boyle, Director of Trainspotting, in conversation with Simon Dallow at the premiere of Trainspotting 2.
MARCH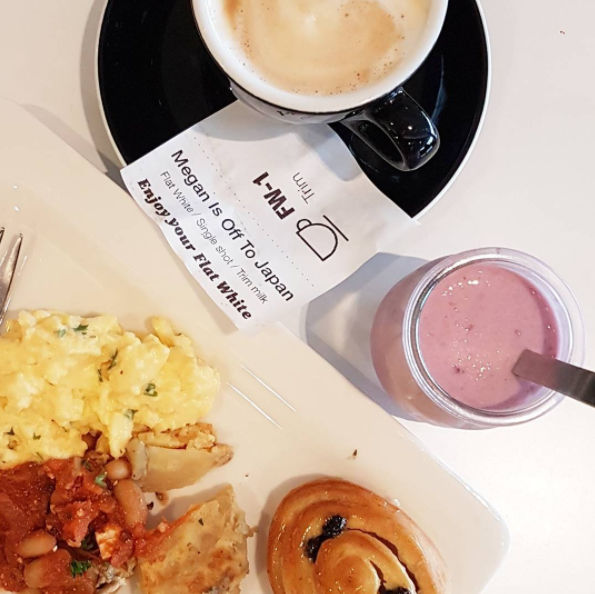 One of the year's best trips was 8 days in Japan, seeing snow monkeys in the forest, visiting beautiful locations, and Kyoto. You can see all the pics in my post, 'Highlights of Japan in Winter in March 2017' on Threadnz here.
Catching up with Zoe and Morgan – the brother and sister duo behind amazing jewellery brand Zoe and Morgan – in their jewellery store at City Works Depot. I love New Zealand design and supporting local talent and this is one of my favourite brands.
iD Dunedin Fashion Week Emerging Fashion Award is always full of mind-blowing colour and creativity with entrants from around the globe on display, and their 2017 runway show at the Dunedin Railway Station was fabulous.
With the gorgeous Tanya Carlson and Adrian Hailwood at Beeyu Skincare's fashion show at iD Dunedin Fashion Week.
The super amazing foyer at my Dunedin hotel at Larnach Castle. I'm possibly the only person to stand on the staircase in sneakers (with nom.d socks though).
APRIL
It's also good to appreciate the beauty right on our doorstep. I checked out the new additions to Takapuna and enjoyed a night at Spencer On Byron hotel in Takapuna.
Meeting the beautiful Andreja Pejic, whom I follow on social media; so eloquent and inspiring on her journey as a trans woman. She walked in the Smith and Caughey's fashion show, aptly, on the International Trans Day of Visibility.
I just adore Zambesi and their perfect blend of glamour and edginess, and for the Huawei P10 party, models wore bespoke dresses especially created by Zambesi.
It's so good when New Zealand brands and designers – such as these merino shoes – are a huge international success. I interviewed the Allbirds designer on the launch of the new lounge Allbirds shoes and can personally attest they are very comfortable as I wear them around the house and can't take them off.
MAY
It was an honour to be invited to attend the Sony Photography Masterclass with Tom Ang at Sony New Zealand as a guest to learn about photography skills from the master.
I was featured in an interview about my website on the New York blog, culturetrip, on New Zealand fashion bloggers.
My family and I were guests of The Rees for my feature on Queenstown on what to do with a family and the top places to see and enjoy (and eat!) in the beautiful city.
We had Mother's Day lunch on top of the world at Skyline Queenstown. What a view.
The super rustic charming Sherwood Queenstown – I loved it here, and it's so great for families and children.
I really enjoy going to contemporary as well as the classical ballet performances and seeing thought-provoking and original work. Above: with the gorgeous Juls at the contemporary dance NZ Ballet show 'Three by Ekman', at ASB Waterfront Theatre. We absolutely loved it; clever, sexy, and stylish costumes to boot.
JUNE
Vivid Sydney lights up the Opera House in June 2017. I went over as a guest of Vivid Sydney, to check out the fashion, music, illuminations, and restaurants around Sydney.
I made a friend at the Gowings restaurant entrance at QT Hotel before enjoying an amazing breakfast.
Seeing Goldfrapp play live at Vivid Sydney. Whenever I can. I love going to live gigs and Goldfrapp was stunning.
The stocking-clad leg stools in the bar at QT Sydney, site of the historic Gowings Department Store and Sydney State Theatre. I cannot recommend this hotel highly enough; it is my favourite hotel in Australia.
Back in Auckland, to see the fabulous Million Dollar Quartet stage musical at Civic Theatre.
Trelise Cooper always puts on a real glam show, and this year's Theatre of Fashion at Q Theatre Queen Street brought the romance of Italy to Auckland with a rose-covered bridge over a watery blue catwalk. Photograph by Annupam, who I have to say, is not only the best photographer, but so professional and a delight to work with.
JULY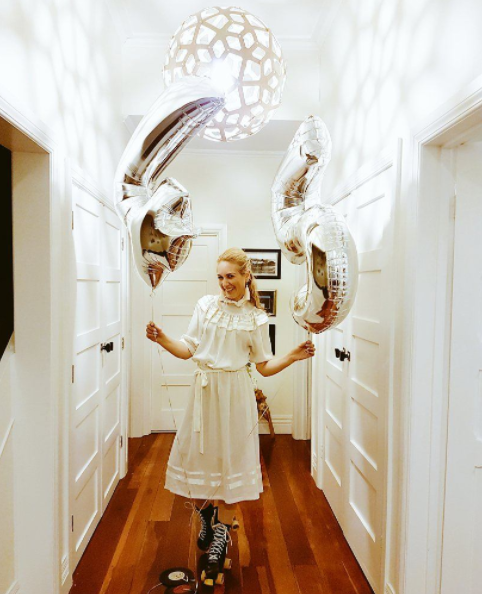 My birthday party with an Eighties dress up theme! We had retro cocktail-making contests and an 80s quiz, I was quizmaster and I made 80s- theme food in vinyl record bowls and Pacman cupcakes.
High heels off, sneakers on. Doing a yoga class with Chrystal Chenery in our Skechers at Albany with these fitness and lifestyle bloggers.
My ideal school holidays tbh. In Fiji with family over my birthday week for food, water, books, and sunshine. This island also had free wine all day.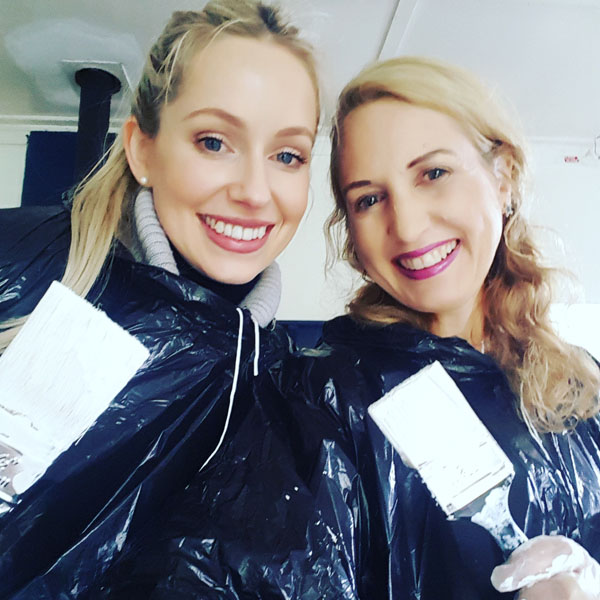 I was incredibly lucky to take part in L'Oreal Citizen Day with two hundred of their New Zealand employees and two other bloggers, Leah Vine of leahlovesmakeup, and Hannah Carson, of hanniecarson, on a working bee in the Coromandel helping foster kids and pampering refugee women. Read about our Citizen Day on threadnz here.
AUGUST
With the gorgeous Karen Murrell at her lipstick event launching new shades, entitled Princesses of the Golden Petals. Karen Murrell is another of my favourite brands and Karen is such an inspiring woman in business.
Pretty in pink: beauty bloggers in Benefit 'Bene-babes' satin jackets, on today's field trip to Jump where we got our bounce on to celebrate the launch of Boi-ing concealer. Benefit are easily one of the best brands at throwing creative events that tie in the launch with an experiential activity.
At Colin Mathura-Jeffree's birthday party with a Studio 54 theme – I'm in roller skates:) Every year Colin throws a fabulous party with a dress-up theme, so I am right in my element!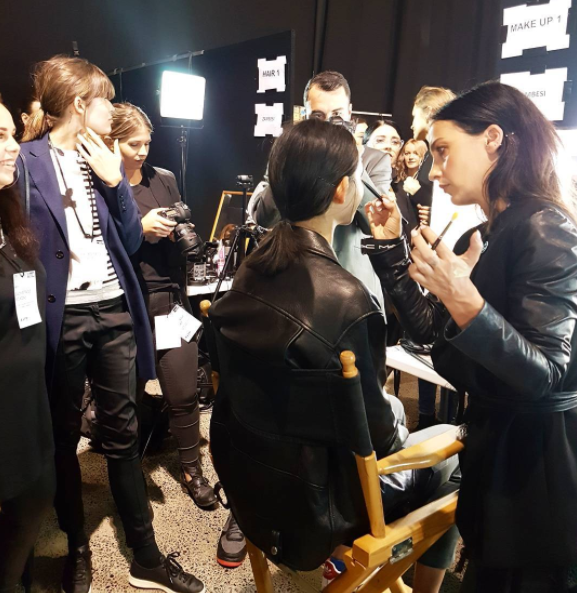 It's a privilege to be invited backstage by MAC cosmetics to interview the key makeup artists about their runway 'face' and feel the energy of the team working on the look. Here MAC is working on Zambesi, the first show at New Zealand Fashion Week.
SEPTEMBER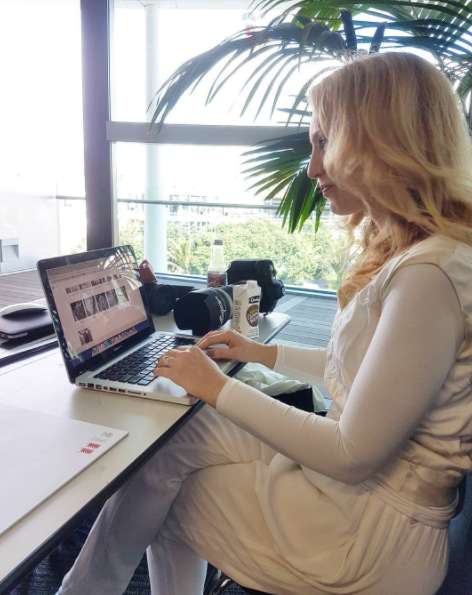 Another flat-out week at NZFW; here, in the media room, typing away between shows. I think it was maybe my 16th New Zealand Fashion Week.
I enjoy dressing up in theme for premieres for fun, and here I am off to Matilda the Musical dressed as Matilda from the Roald Dahl classic. I took my daughter along to the live stage show at the Civic for her first musical night out, and she loved it.
An action shot of our table at the 'What Women Want' charity lunch at Langham Auckland.
With models from 62 Models wearing new season fashion at Smith and Caughey's media showcase. I'm wearing the new Karen Walker eyewear; models wear Calvin Klein Swim and Gucci eyewear.
OCTOBER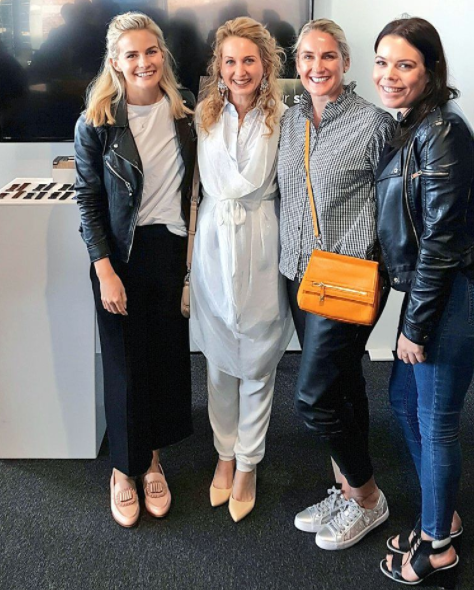 It's always nice to see friendly blogger/Influencer babes at events, such as Matilda Rice, Melissa Jack and Hannah Rogers, pictured here at Fitbit ionic smartwatch launch at GridAKL.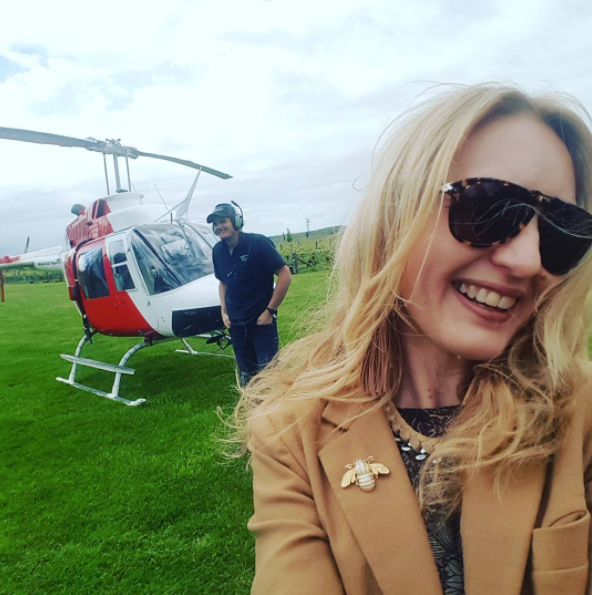 When I got an invite to fly to a Brancott Estate for lunch and wine tasting and a helicopter tour of the brand new Dror Benshetrit sculpture from the air, how could I say no? It was a bit rainy at first but it lifted and we were able to take flight over the Wairau River in Marlborough and view the grapevines and the stunning metal sculpture from high above. Just wow.
On location at Depot on Federal Street in a shoot for Skycity, wearing a dress by Trelise Cooper.
My children began Mindful Kids yoga classes, at Jayayoga Birkenhead, and it is so great, I highly recommend it.
It's so inspiring when successful people use their talents for good. One of my favourites is Eat My Lunch, which feeds lunch to a schoolchild in New Zealand when you buy yourself a lunch delivered to your workplace. Here is the chef himself – in my opinion the Taika Waititi of food and New Zealand's best-looking (equal with Josh Emmet) chef – Michael Meredith of Eat My Lunch at the launch of the brand new cookbook, 'Food For Good'.
I love this photo… me captured having a laugh with the beautiful girls wearing Juliette Hogan AW18 at the AUDI x Juliette Hogan party.
NOVEMBER
Meeting a friendly ostrich at Gibbs Farm. Gibbs Farm is a must-see! I took my mum and we had such an amazing day with General Collective artists at the sculpture park which is the private property of a multi millionaire with an extremely grand vision. There are mind-blowing giant sculptures on the Kaipara harbour, with live giraffes you can feed leaves to, zebra, bison, goats, llama and more. It is free public entry, Thursdays only, with bookings well in advance required.
Designer Karen Walker is in my all-time top NZ designers that I wear constantly and follow with passion. In fact, I used to sell her label at my own store over twenty years ago, so it was great to catch up with her at her Playpark book and Storm & India tea salon launch in Balm Street Newmarket. Fashion, tea, and books? Yes, please!
As well as fast-paced events, it is actually so lovely to slow down, and breathe, and ground yourself and there's no better way than exercise such as yoga and pilates. Here I am at Barrefigure class wearing fitness wear by NZ brand Cadenshae. Photograph by Libby Robinson.
DECEMBER
Following the reindeer footprints through the enchanted forest to see Santa at Smith and Caughey's. This is our favourite Santa as it's beautifully done and so calm with the children unlike many scary Santas out there in Malls.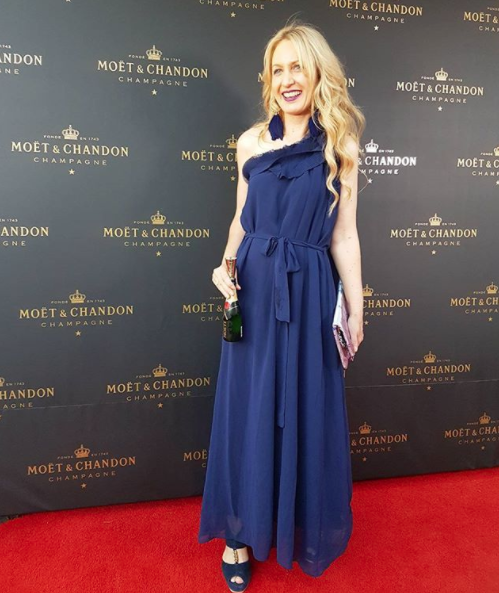 Who can resist a Champagne event, and Moet parties are epic with body-painted dancers, Jupiter Project DJing, and a golden bathtub full of confetti. Above: what I wore at Clooney for Moet Gold- hair by Blaze, dress by Martini Australia, shoes by Kathryn Wilson, purse by Mi Piaci.
On the swing at Clooney with Juls Roulston, also my top fashion writer, at the Moet Gold party.
Donning a top hat with the costumes from the film The Greatest Showman, inside Auckland's Civic Theatre at the New Zealand premiere which featured acrobats hanging from the ceiling of the Civic Theatre on ropes, and a live 40 person choir singing the film soundtrack as we arrived. Definitely the best movie premiere event of the year.
With Melissa Jack and Trudi Bennett at one of the most fun musicals I have been to, Pleasuredome the musical, which transformed an Auckland warehouse into an entire New York street scene complete with old cop cars, bars, and hotdog stands. At Christmas time, they installed a 2-storey high real Christmas tree in lights and had fake snow falling! Just magical.
I am a huge fan of Star Wars so I was looking forward to the release of Star Wars The Last Jedi with anticipation all year, and it was amazing. After the NZ premiere, there was a Cantina After Party with a sax player doing the famous Cantina theme music from the original, with Stormtroopers walking around, and Light Side and Dark Side cocktails – very creative and lots of fun.
What a great year. See you next year, everybody. Here's to 2018!
Megan Robinson
January 2018
Recommended