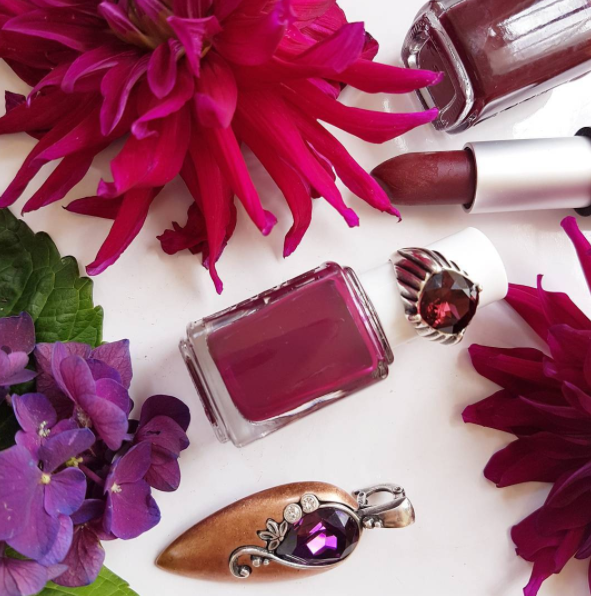 Valentines Gift Ideas: Rich jewel tones with jewellery by Miglio
Want some beautiful Valentines gift ideas? Something that'll last a lot longer than roses and chocolates? I'm loving the rich jewel tones in Swarvoski crystals and burnished silver, by Miglio.
The designer jewellery brand is handcrafted by artisans in South Africa from responsibly sourced materials, and is all lead-free and nickel-free. The burnished silver jewellery is dipped in solid silver. The brand is now available in New Zealand at selected jewellers and from Miglio.com. Here in New Zealand, you can view the NZ Miglio website here.
Pictured above: Deep hues of red and purple complement the colours of summer dahlia and hydrangea. Jewellery by Miglio with this Swarovski crystal and silver Billie Jean Cocktail Ring, and recycled brass, Swarovski crystal and silver 'Art Nouveau Pendant'. Lipstick in shade 'Galaxy' by World Organic Co, and nail polish by Essie.
SWARVOSKI CRYSTAL RING
Pictured above: Swarvoski crystal and burnished silver 'Billie Jean Cocktail Ring' featuring a stunning 12mm burgundy cushion-cut crystal.
Pictured above: Pink Swarvoski crystal necklace with lipsticks by (Top to bottom) Karen Murrell, World Organics, and Clinique.
FLOWER NECKLACE
Pictured above: pretty pelagonium blossoms suit this delicate pink Swarvoski crystal necklace with silver leaves.
Pictured above: This Japanese fan brings out the pink in the gorgeous Swarvoski crystal necklace. Burnished silver plated link and leaf necklace embellished with Swarovski® crystals. Length: 41cm and on the NZ Miglio website here at $179.
Pictured above: the necklace is perfect for day or night, paired with a dark red crystal silver ring for a pop of glamour.
ROSE QUARTZ 
Dusty Rose Necklace features two large, faceted rose quartz pieces on a chain of burnished silver with larger loops and closure that is worn at the front.
The matching Dusty Rose Bracelet has one large rose quartz piece on a fine silver chain with larger links and closure.
Rose quarts elastic bracelet with angel silver charm, Dusty Rose necklace.
Valentine's Day cupcakes made by Petal Cupcakes NZ. Dusty Rose necklace and bracelet looking good enough to eat!
BRASS & CRYSTAL PENDANT
Pictured above: The divine purple Swarovski crystal and recycled brass, crystal and silver 'Art Nouveau Pendant'.
Make somebody's Valentine's, with the 'Art Nouveau Pendant'!
PEARL RING AND BANGLE
A classic look for Valentine's and everyday, in this contemporary-modern ring featuring a cultured pearl set in burnished silver.
Contemporary white pearl and burnished silver 'Classique Ring'. Pearl size: 12mm and on the New Zealand Miglio website here at $99.
Pearl ring with bangle in silver with two pearls.
Megan Robinson
Miglio items gifted for review.
7th February 2017
Recommended