Zambesi 35th Anniversary fashion week show
Flash! A-ah
Saviour of the Universe
Flash a-ah
He'll save every one of us
The doors parted, light shone out like Flash Gordon's spacecraft landing, and the show began. When a label is celebrating 35 years in business, you don't mind that it's an hour and half late. Zambesi draped models in blankets with 'XXXV', Roman numerals for 35, across their shoulders. I well remember coming to their 30th Anniversary show at NZ Fashion Week half a decade ago. Back then, they did more of a retrospective, bringing out garments from the archives – which to be honest hadn't dated at all.
Instead of a retrospective, this time around for their 35th they looked to the future. Aptly they chose Queen's rock opera Flash Gordon as the soundtrack for the entire show, an anthem was also about 35 years old like the brand as it was released in 1980 and Zambesi began in 1979. It was a sci-fi theme that was retro and futuristic at the same time, just like the clothing label. It draws on the past and looks to the future, and similarly, models wore well-cut suits that demonstrated the label's skill drawing on a heritage of tailoring, alongside neoprene dresses for a woman of today.
Colourwise, the black usually associated with Zambesi took a second place to blue, which featured strongly in the show with a strong clear cobalt in suits, and appeared on models' blue-painted boots. Olive and dirty muted soft browns appeared on boiled pilled-wool car coats and a lilac gave a shot of colour in oversized knits with XXXV emblazoned across the front.
Here's the MAC face look for the show by key makeup artist, Kiekie Stanners. We were lucky enough to be invited backstage before the show to hear firsthand from the lovely and very talented Keikie about the look. Here's my Instagram of Kiekie demonstrating the makeup on a model backstage. I loved the slightly-olive, bronze eyeshadow she was using, called Natural Wilderness, which hasn't been released yet.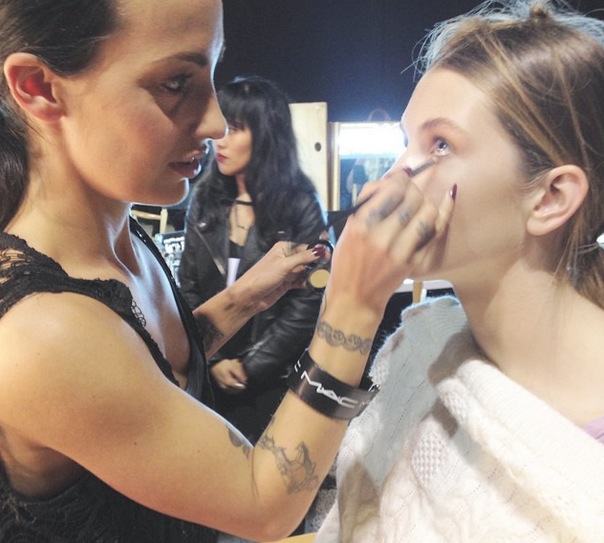 Kiekie Stanners says the inspiration for the face is "The quintessional Zambesi woman. The colour palette was chosen to complement the 35th Zambesi collection with sculpting, defining and shadowy tones."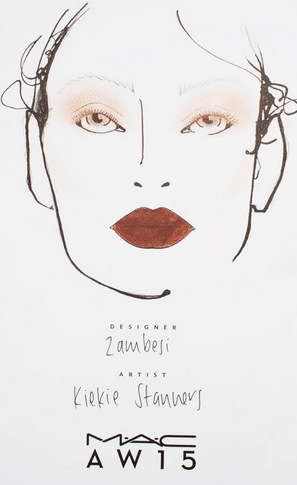 Runway photos by Kevin Robinson
Megan Robinson
27th August 2014
Photos Kevin Robinson
Recommended