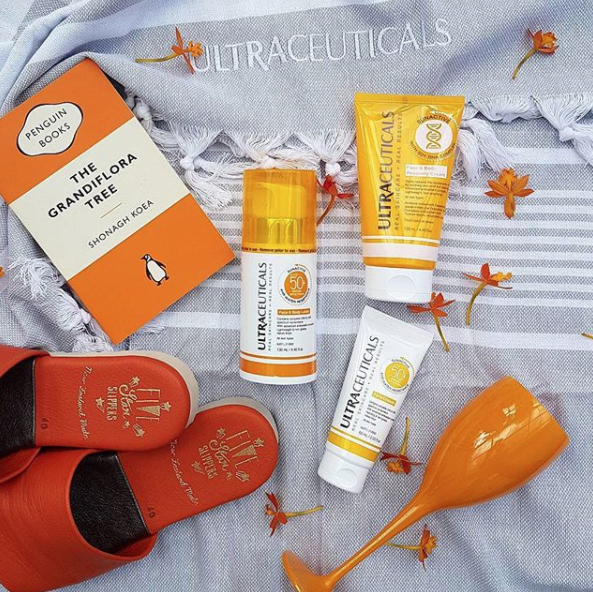 On My Desk: What's New in Beauty – November 2017
Here are some new beauty releases to come across my path in the month of November, in the this the latest 'On My Desk: What's New in Beauty' column for November 2017, including releases from
Intro image: Orange you glad it's summer? Getting skin summer-ready with Ultraceuticals, wearing New Zealand made leather outside- slippers by Minnie Cooper Five Star Slippers, book by Penguin Books, glass by Veuve Clicquot.
Summer-ready with this beautiful Travel Essentials Kit by Ultraceuticals. The Turkish Towel is just gorgeous too and so useful for summer for just about everything. Don't forget your skincare routine over summertime.
A lovely gift idea for lovers of natural cosmetics; Karen Murrell lipstick trios and lipstick-lip pencil gift sets.
Unicorn makeup? It's not a myth- thanks to Wet n Wild cosmetics new Unicorn Glow collection of rainbow hued highlighter and pigments and a brush that's a little horny. Priced $7 to $14 at selected Farmers.
Gorgeous beauty products all from @tvsn, succulents and roses from my garden. Featuring Cargo cosmetics blush, Sanskrit Saponins, Nourish London, Beauty Fix.
Mmmm I adore lavender fragrance! Beautiful European made gifts by Fiorentino and Isabelle Laurier. Fiorentino uses lavender from Tuscany Italy in its Lavanda Toscana soaps made on site in Tuscany ($16.99 a box of 3) and Isabelle Laurier bath bomb is inlaid with a confetti rose ($7.99) at Farmers and selected pharmacies, ideal for Christmas.
Megan Robinson
21st October – 16th November 2017
All photography by Megan Robinson. Products gifted for review purposes, no payments received, all opinions my own.
Recommended